Nature Tourism in Kyrgyzstan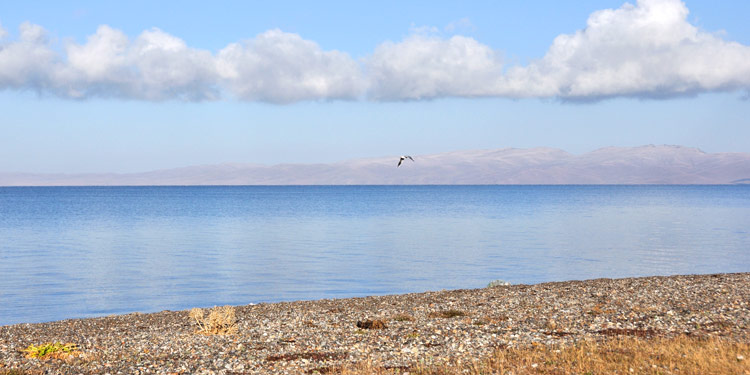 Son-Kul Lake
Nature tourism in Kyrgyzstan comes quite naturally to this resplendent country crisscrossed by record-breaking peaks, verdant pastures and irresistible canyons that simply beg exploration.
Kyrgyzstan lays proud claim to Issyk-Kul, one of the world's largest mountain lakes and the largest saltwater lake in the world, save the Caspian Sea. A favorite vacation spot for Central Asians, the lake's beach towns, most notably Cholpon-Ata, offer swimming and sunbathing against a backdrop of the Tian Shan Mountains.
Arslanbob Forest in Jalalabad Region is an oft-overlooked gem, the largest walnut forest in the world where tourists can enjoy a relaxing hike or picnic lunch. If you visit in the autumn, you may even get to join residents in gathering the walnut harvest. Also in Jalalabad Province is Sary-Chelek Nature Reserve, which promises hiking and relaxation along the turquoise waters of Sary-Chelek Lake.
Kyrgyzstan holds some of the highest points in the post-Soviet world, including Khan Tengri, Pobeda and Lenin (Ibn Sina) Peaks. Thankfully, you don't have to be an experienced climber to feature these stunning photo ops in your Kyrgyzstan vacation. Indeed, breathtaking scenery awaits you wherever you turn: on hikes and horseback rides through Chon-Kemin, Skazka (Fairytale) and Jety-Oguz (Seven Bulls) Canyons, during picnic lunches in Chickhkan, Boom and Grigorievka Gorges and on day trips from Kyrgyzstan capital Bishkek to Ala-Archa Canyon's stunning waterfall.
Nature tourism in Kyrgyzstan also includes lesser-visited sites. Spend the day on a village farm in Tepke in Issyk-Kul Region or come face-to-face with camels, yaks and eagles on the outskirts of yurt camps. Leave your troubles behind when you arrive to Son-Kul Lake, one of the highest bodies of water in Kyrgyzstan, or Toktogul Reservoir, whose flawless, glasslike surface will leave you second-guessing whether it really is a manmade dam.
The list could go on, but whether through Kyrgyzstan tourism packages or your own independent travels, we invite you to discover this alpine landscape for yourself!