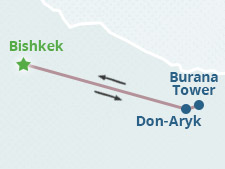 Excellent one-day tour to the surroundings of Bishkek where you will visit ruins of the ancient town of Balasagun and a local site – Burana Tower. The second part of the excursion will take place in Don-Aryk where you will see the main symbol of nomad Kyrgyz nation – a yurt. You will learn about the structure of this mobile dwelling and how quickly it is set up.
Tour itinerary:
At 9.00 start the trip from Bishkek. First stop is Burana tower, historical complex, which marks the original site of the Karakhanid town, Balasagun. Transfer to Don-Aryk village where you will have lunch in the local Kyrgyz family. After lunch you will have a chance to watch a demonstration of yurt installation (nomadic dwelling) and even take a part in installation if you wish. Local Kyrgyz woman will tell you the meaning of each part the yurt. Transfer back to Bishkek. End of the tour.
Tour price includes:
All transfers;
Lunch in a local house;
English speaking guide;
Entrance fee to the museums and sights. Camera/video fees are not included and paid separately;
Yurt installation.
Tour price does not include:
Personal insurance and items not mentioned above;
Accommodation;
Tips are not included, but would be appreciated;
Breakfast and dinner in Bishkek.