Trans-Baikal National Park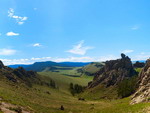 National Park is a sartorial statement of Lake Baikal, a kind of Mecca for lovers of Lake Baikal natural beauty. The interesting thing is that a fairly small area, owned by National Park has collected a great variety of natural wonders. Trans-Baikal national park is one of the protected Lake Baikal areas, available for visit, which does not need to plan in advance: the situation with the road infrastructure is generally better than in whole Buryatia in average. One thing has to be remembered that the entrance to National Park and stay in its territory are fee-paying.
Trans-Baikal National Park - Destinations
Svyatoy Nos
Svyatoy Nos is the largest peninsula of Lake Baikal. The peninsula is notable for hot springs and dense forests, inhabited by wild animals, such as bears. The peninsula houses three settlements with the largest of them Kurbulik village with a population of one hundred people. The other two settlements are Katun and Monakhovo.
Ushkany Islands
Another significant attraction of National Park is archipelago Ushkany Islands inhabited by nerpas (Baikal seal). The Baikal nerpa is a very rare species of seal – a half-hour watching them will cost a tourist group about 25,000 RUB. The archipelago islands are famous for many features; one of them is a great number of anthills, reaching three meters in height. The islands' name itself refers to hares or locally called Ushkans, inhabiting the islands in a great number. The banks of the islands are covered with broad-leaved forests - home for rare species of plants, some of them are endemic: the black "Ushkany" birch and pine with a bizarre-shaped trunk. The age of some trees growing on the archipelago islands is some three hundred years. The Ushkany islands are uninhabited - a light-keeper and a weather station inspector only live permanently there. Visiting the island is only allowed in a group of at least six people guided by a Reserve instructor.
Chivyrkuisky Isthmus
Chivyrkuisky isthmus is famous for a network of Bormashev lakes, with very warm water in summer. At the lake, there are sandy beaches and baths with peloids. These peloids are collected at the Bormashov lakes for Gremyachinsk resorts, located 130 kilometers from Ulan-Ude on the same road that leads to Ust-Barguzin village. Another and more extreme attraction of Chivyrkuysky isthmus is so-called the "Culina swamps". At the bottom of these swamps there are mineral springs, outpouring hot water with gas. The way to the mud volcanoes "Culina swamps" is extremely unsafe without an experienced guide.