Ust-Barguzin, Lake Baikal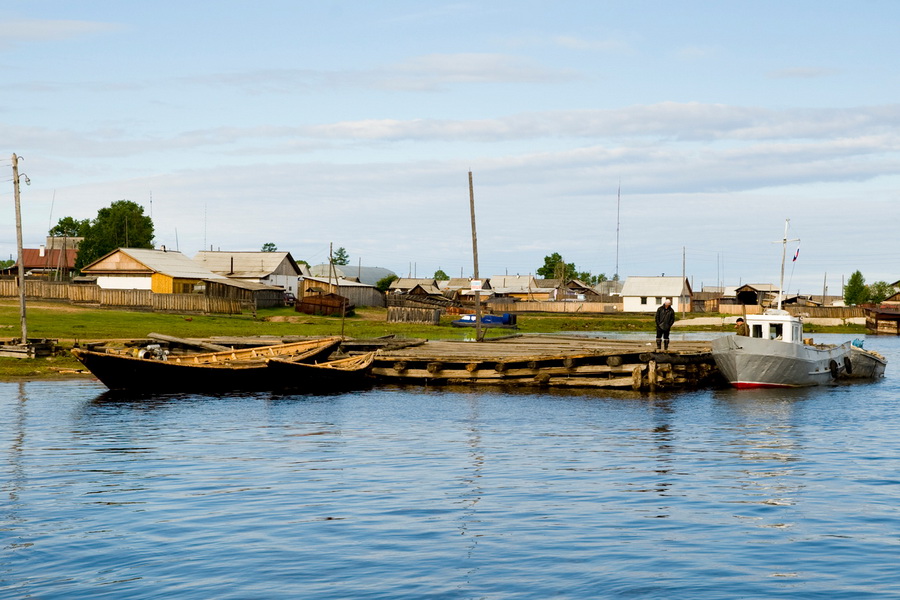 Ust-Barguzin, perhaps, would have been quite an ordinary Buryat town, but for its immediate proximity to the legendary Lake Baikal. There is nothing special in Ust-Barguzin: standard wooden buildings, occasionally decorated with intricate carvings, wide unpaved streets, little vegetation.
But in fact, Ust-Barguzin village has many advantages; the main one is its proximity to the most important natural attractions of Lake Baikal. This patch surrounded by taiga, is the last inhabited and lived-in village at the boundary of timmense conservation area stretching for nearly three hundred miles to the northernmost Baikal village – Nizhneangarsk.
Ust-Barguzin, still unspoiled with excessive attention on the part of tourists and considerable investments, is known as the Podlemorye southern gateway. From there you can start a fabulous tour to tourist places of Lake Baikal, which include the Trans-Baikal National Park, Barguzin nature reserve, the Svyatoy Nos Peninsula, as well as Frolikhinsky Reserve, existing since 1976. Ust-Barguzin opens the way not only to Podlemorye, but also to Barguzinskaya Valley - one of the most beautiful valleys of Buryatia, stretching for 230 kilometers.
Ust-Barguzin village manages to combine extremely harmoniously an urban civilization necessary for city dwellers with primeval natural beauty of Lake Baikal. The village has the usual blessings of civilization of the "Mainland": water supply, heating, a few shops and cafes, the Internet, cellular communications. And at the same time, just a fifteen-minute walk from Ust-Barguzin there is a picturesque shore of the Barguzinsky Bay, greeting a stunning typical Baikal view of the nearby Svyatoy Nos Island. In summer, the Baikal water temperature comes up to 22° C, so you can swim and sunbathe on a white sand beach. In addition, a whole day in Ust-Barguzin may be spent in fishing; fortunately these waters harbor various species of fish in abundance: cisco, grayling and whitefish.
The tourists do not have any problems with accommodation in Ust-Barguzin: there is a good choice of holiday camps and private hotels, besides as an option, you can be quartered in homes of the locals. The latter option though quite exotic, is also very interesting, because you can see the culture and everyday life of ordinary Siberian families. However, bear in mind that luxury apartments cannot be found there, to that end, you'd better go to Maksimikha village, where you will find a well-maintained resort area.
The best time to visit Ust-Barguzin village is summer months, July is more preferable to the others, when the Baikal water in many places is warm enough for swimming. The weather during a day is changing rapidly and often - from the gloomy, cloudy to completely clear and sunny.