Ulan-Ude, Buryatia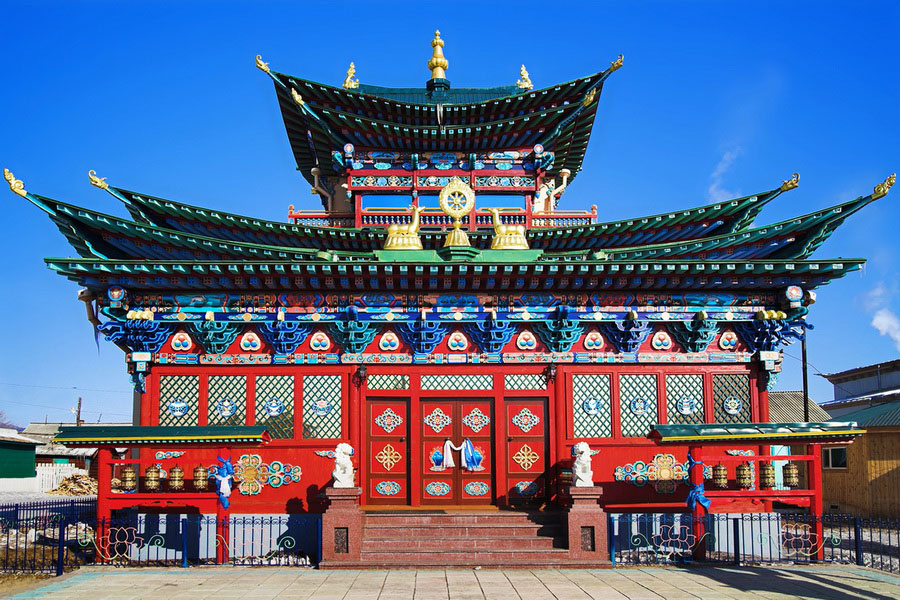 Temple of the pure land in the Ivolginsky Datsan
Tours, Attractions and Things To Do in Ulan-Ude
All has mixed up in Ulan-Ude, the capital of Buryatia, and one of the most prominent historical cities of Russia. Here, as if in a clew of yarn, the strands of Asia and Europe, roots of Russian and Mongolian peoples, historical monuments and modern buildings have firmly intertwined.
Ulan-Ude is located just a hundred kilometers from the legendary Lake Baikal. Its close proximity to one of the world's major natural interests attracts travelers from all over the world to this city.
Ulan-Ude is full of contradictions, but the townsfolk got used to it long ago, while visitors can be surprised. Both Buddhist monks in orange robes made of a single-piece fabric and Orthodox priests dressed in a black cassock walk with perfect calm along the same streets. Also harmoniously, the Orthodox churches neighbor with ornate Buddhist temple in Ulan-Ude. The relation to Buddhism in Ulan-Ude is more than respectful: people go to the local Buddhist lamas to talk and get a piece of advice instinct with wisdom. On top of that, shamanic "idols", with attached colored rags, fluttering in the wind can be met on the road passes suspiciously often. This fact is a direct evidence that Ulan-Ude does remember its shamanic roots, while residents and visitors do not miss an opportunity to make a stop at one of the shaman places to honor with their attention Burkhan, the Buryat god - they left coins, cigarettes, and other small things, occasionally left in pocket, in hopes to appease the terrible god.
There are no any problems with the accommodation: Any traveler, arrived to Ulan-Ude can easily find shelter in the city. Ulan-Ude has both large hotel complexes, and budget hostels and mini hotels.
Ulan-Ude is convenient because it is a transit point on the way to the Lake Baikal natural attractions, which are located on the so-called Buryat side of the sea-lake – on the shore most popular among tourists.
Ulan-Ude Airport is located 15 km from the city center, which can be reached by taxi or by regular shuttle bus. The Lake Baikal coast can be reached from Ulan-Ude by road, under the name of M55: the distance to be traveled is about 140 km.