Donskoy Monastery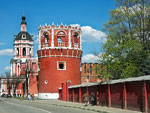 source: patriarchia.ru
Donskoy Monastery was founded in 1592 by the Tsar Fedor Ioannovich and his close associate, the boyar Boris Godunov in memory of the victory over Crimean Khan Kazi Giray and Our Lady of the Don, the icon which accompanied Russians in the campaign.
The place where the tent with the idonskoy-monastery.htmcon stood, the traveling church of St. Sergius of Radonezh, became the site of the monastery. In the newly built monastery the icon of Our Lady of the Don was transferred. In 1593 the monastery received a modest single-dome temple in the name of the icon of Our Lady of the Don, commonly called Old or Small. It is distinguished by the elegance and lightness; especially pretty is the pyramid of kokoshniks.
Under the princess Sophia, in the end of the 17th century Donskoy Monastery became one of the major metropolitan monasteries. In 1684-1698the the five-domed New or Great Cathedral was erected also in the name of the icon of Our Lady of the Don. The Cathedral is surrounded by a roofed gallery made in 1717. Inside the cathedral is very impressive which is achieved by the carved iconostasis of six tiers made in the end of the 17th century in Moscow baroque style. The Great Cathedral of the Donskoy Monastery became the place where the icon of the Mother of God was kept. Our Lady of the Don was revered as the defender of the Fatherland. Now it is in the Tretyakov Gallery. In 1713 above the northern gate of the monastery of the Virgin of Tikhvin was built. Above the western gate there is the bell tower, construction of which was carried out at different times and was finished in the 18th century.
Now, large area of the monastery is occupied by the necropolis. There are buried many distinguished representatives of Russian families, writers, artists, architects, philosophers. The necropolis of the monastery was considered the richest cemetery in Moscow.
Within the walls of the Donskoy Monastery for a long time there was the Museum of Architecture. From 1991, since the return of the monastery to Russian Orthodox Church the monastic life resumed there.