Novospassky Monastery
Novospassky Monastery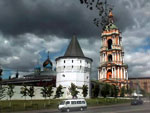 source: fotki.yandex.ru
The austere walls rise above the steep hill on the banks of the Moskva River. Visible from behind the walls are the green trees and the powerful domes of a large cathedral and a tall bell tower with a gilded head. This is Novospassky Monastery, once, one of the many stone guards of Moscow defending Kolomna road. It is located on the Moskva River on the spot where once stood the army of Grand Duke Vasily the Dark waiting for the attack of the Mongols. An interesting fact is that the history of the monastery had begun long before that event and is connected with the history of Danilov Monastery. In 1330 it was situated in the Kremlin and called Spassky. It was there that Ivan Kalita moved the monks from Danilov Monastery. In connection with the restructuring of the Kremlin in the end of the 15th century, Spassky monastery was moved to a new location, on Krutitsky hill, and was named Novospassky. Novospassky monastery began with the stone Church of the Transfiguration. At the same time the refectory and cells were constructed.
In the 16th century Spassky cathedral became the Romanovs family burial place. Therefore, after the Tsar Mikhail Romanov's ascending to the throne, Novospassky monastery saw the extensive stone construction. In 1630s -1640s the wooden walls of the monastery were replaced by stone ones. The new walls were extended to seven hundred and eighty-two meters; their height was about seven and a half meters; the width - two meters. The system of fortifications consisted of six towers, one of which included the gate. The walls and towers of Novospassky monastery were equipped with loopholes. In the middle of the 17th century the old Church of the Transfiguration was almost completely dismantled to be replaced by the new Holy Transfiguration Cathedral. Its grand solemn building crowned with 5 mighty domes still enthralls the witnesses with its grandeur. The main tomb, in basement of the cathedral, holds the remains of the Romanovs and many of their relatives.
In the end of the 18th century at the northwestern corner of the cathedral on the site of the 17th-century church was built the church of the Sign of the Blessed Virgin Mary, the tomb of the Sheremetevs. In 1758 the construction of the new Novospassky bell tower began. However, there was only enough money for the construction of the base and the second tier, after which the construction stopped. The tower stood in that condition for the next 17 years. It was completed only in 1784. Its height is only three meters lower than of the bell tower of Ivan the Great.
The monastery was closed in 1918 to be converted into a concentration camp; later it was given to the branch of Taganka prison. In 1991 Novospassky monastery was returned to the Russian Orthodox Church and now is a functioning monastery.