Vysokopetrovsky Monastery, Moscow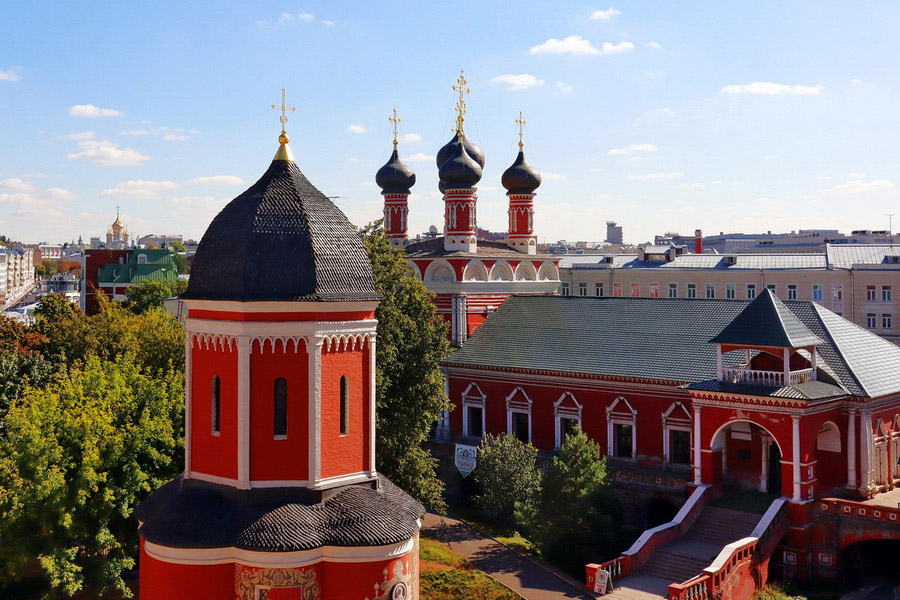 source: wise-travel.ru
Vysokopetrovsky Monastery in Moscow, a sizable complex in the heart of Russia's capital, has miraculously survived invasions and hostile regimes to earn the title of one of the city's oldest sites.
Although the precise date of its formation is unknown, Vysokopetrovsky Monastery was founded in the 14th century by Saint Peter of Moscow, the influential archbishop of Kiev and Russia. Among its sponsors were Tsar Aleksey Mikhailovich Romanov, Emperor Peter I and multiple princes and dukes.
In the early 16th century, Prince Vasili III ordered the archbishop's remains be relocated to Vysokopetrovsky and St. Peter's Cathedral be built in his honor, a decree which was masterfully carried out by the architects of the Kremlin.
In 1684, Peter I constructed the stone Bogolyubsky Cathedral on site to mark the graves of his murdered relatives, the Naryshkin brothers. St. Sergei Radoneshsky Church, monks' quarters and a dining hall were added in the 1690s, and with the construction of four lesser churches in the ensuing decades the present-day ensemble was completed.
Tragedy struck in 1812 when Napoleon's soldiers pillaged the monastery during their infamous invasion. Miraculously, the most valuable relics were salvaged beforehand and hidden in Yaroslavl. Shortly thereafter, Muscovites suspected of instigating the Fire of Moscow were executed and subsequently buried at Vysokopetrovsky Monastery.
Architects and designers spent years restoring the monastery to its original grandeur. From 1822 until the 1917 revolution, the monastery housed a religious school, the Society of Spiritual Enlightenment, the diocesan library and the Spiritual Censorship Committee of the Russian Church. After the Bolsheviks rose to power, most of the parishioners and monks were shot and the monastery was shuttered.
During the Soviet era, Vysokopetrovsky Monastery was used successively as communal apartments, a library, gym, rehearsal hall and offices. During these decades of religious oppression, the monastery spawned underground monastic gatherings in the neighborhood. In 1959, it was formally recognized as an architectural monument, a move which ultimately saved it from destruction.
Since 1991, the monastery's churches have again been used for worship. The complex was returned to the headship of the Russian Orthodox Church, and in 2009 monastic life was revived within its walls.
Today, visitors to Vysokopetrovsky Monastery in Moscow may tour its newly renovated premises, attend services, sample its homemade food and view the Holy Relic of Saint Peter and other icons.