Arkhangelskoye Estate, Moscow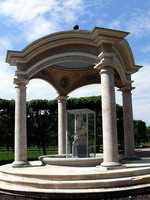 Arkhangelskoye Estate is by right called the masterpiece of palace and park art. This is a unique monument of Russian artistic culture. The worldwide fame came to it because of the majestic beauty of the estate itself as well as its variety of unique museum collections.
This place of amazing beauty is known from the beginning of the 16th century, although its history began much earlier. Arkhangelskoye estate received its name after the wooden church of the Archangel Michael built in the 16th century. In the middle of the 17th century the church was replaced by the picturesque stone temple standing on the high bank of the Moskva River. Before 1810 Arkhangelskoye belonged to Princes Golitsyn. It was then that it gained its popularity due to the grand balls, assemblies and other events. Later, the Great Palace with greenhouses, the Small Palace, and the terraced park were added. But its greatest popularity came after it passed into the possession of one of the richest men in Russia, a connoisseur of arts and a patron, Prince Nikolai Yussupov. With the new master Arkhangelskoye became one of the most popular centers of Moscow high life. It was visited by Russia's emperors, rich nobles, politicians, famous poets and publicists.
The architectural complex Arkhangelskoye includes the Great Palace, the Church of Archangel Michael, a theater, the temple-tomb Colonnade and the regular park of the 18th century with the Small Palace "Caprice". The Great Palace was created in the 18th century. Stone Church of Archangel Michael was restored, but the interior of the temple has not survived in its original form: the walls were whitewashed, the iconostasis lost. The theater was built in 1817-1818. The temple-tomb Colonnade is the most recent structure of the estate built in 1909-1916 after the death of one of the Yusupovs in a duel.
In the western part of the park there is the Small Palace "Caprice" and the pavilion "Teahouse"; in the east – the pavilion "Pink Fountain". From the south, the regular park once ended with two large greenhouses with residential buildings. The 18th - century park, which occupies the central part of the Arkhangelskoye Estate, was planted simultaneously with the construction of the Gread Palace. The park's terraces, descending to the bank of the Moskva River, are adorned with marble statues, busts, vases, and benches by Italian masters.
Arkhangelskoye is known for its unique collection of paintings of the 17th – 19th centuries, engravings, sculptures and decorative art as well as one of Russia's largest collections of rare books - about 16 thousand volumes.