Izmailovo estate, Moscow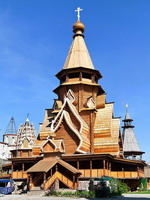 The district of Moscow, Izmailovo used to be the former hunting grounds of the nobles the boyars as well as the royal residence. This is probably the greenest part in the capital. Most of Izmailovo is occupied by Izmailovsky forest - the largest forest of Moscow (1,535 hectares) and green streets. The vast woodland and clean environment attract Muscovites and tourists there. Besides, Izmailovo has the estate of the same name - a fine example of architecture of the 17th century. The estate is situated in the park area dominated by oak and birch groves.
The magnificent architecture and palace-park ensemble was created by its residents, the Romanov dynasty. Earlier it had belonged to the boyars Izmailov and the ancient village near Moscow has been known since the 16th century. In those days there was a dense forest. Izmailovo village stood at the edge of the forest.
It served as a place of rest for the royal family. There the royal residence was built, the center of which was a palatial estate on an island surrounded by artificial ponds - the Silver and the Vine.
The ponds have survived to this day. They reflect the Izmailovo Hotel, built for 1980 Olympic Games. The estate is located on the island among the artificial ponds. The three-tiered tower served both as a bridge and the gate as well as the bell tower. On the eastern and western sides of the palace the front gate was built. In the middle of 17th century the first wooden palace was erected; a little later came another palace with carved porches. Peter I spent his childhood and adolescence in Izmailovo where he took his first boat trips
In 1671-1679 the five-domed Pokrovsky Cathedral was built on the territory of Izmailovo. The Tsar's courtyard was the center of the royal residence. Around it there were several outbuildings along with large fruit orchards, vegetable gardens and greenhouses with melons, watermelons, grapes and cotton. Mills, butter churns, a meadery and breweries were there too.
The attraction of Izmailovo at the time was the so-called regular garden, where fruit trees and shrubs grew. Izmailovo Park retained the status of the largest park in Europe.
After the restoration the architectural and park complex Izmailovo attracts more and more tourists from different corners of Russia and abroad.