Kuntsevo Estate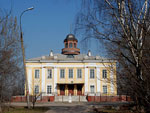 source: nataturka.ru
Kuntsevo is a beautiful picturesque nook nearby Moscow. People lived in the area's high bank of the beautiful Moskva River from time immemorial. The owners of Kuntsevo village were the representatives of the most famous families: the boyars Miloslavskys, the relatives of the first wife of Tsar Alexei Mikhailovich. When the Tsar married again, to Natalya Naryshkina, the mother of Peter I, the whole Naryshkin family became the favorites and were granted a lot of villages, including Kuntsevo and Pokrovskoe-Fili, which had earlier belonged to the Miloslavskys.
Three hundred years ago there lived the boyars Naryshkin. Skillful architects built for Lev Naryshkin a palace and a church; gardeners planted a magnificent park decorated with white marble statues. Initially the palace was made of wood but it burned down. It was built anew in stone: the red walls of the 2-storey palace with tall windows and belvedere on the white stone foundation. Kuntsevo estate has also preserved the Orthodox Church of the Virgin Mary, the two wings, the park, sculptures, and the memorial column.
In the 19th century the central part of Kuntsevo estate came to the well-known publisher and textile manufacturer K.T. Soldatenkov. In 1874 he built a new house replicating the forms of house of the early 18th century. In 1913 the new Znamenskaya Church was built there.
Until recently, Kuntsevo was known as the summer resort where many famous Russian writers, artists, composers such as Herzen, Tchaikovsky, Turgenev, Savrasov, Mayakovsky, Yesenin, Gaidar and others used to live. The nature beauty of the place found reflection on the pages of the novel The Eve by Turgenev, The Childhood by Lev Tolstoy who always remembered their visits to Kuntsevo cottage. The dacha of the founder of the Tretyakov Gallery, Pavel Tretyakov was also there.
The beauty of nature, the picturesque view from the high and hilly banks of the river attract a number of art connoisseurs.