Red Square, Moscow
Red Square - the heart of the capital of Russian federation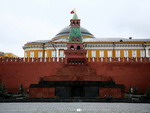 Red Square is located in front of the eastern wall of the Kremlin and is bounded on three sides by other buildings: the State Historical Museum, the GUM department store and St. Basil's Cathedral. For centuries the Red Square, as the central square of the country has witnessed important historical events in the life of the city and country, witnessed the change of generations, centuries and eras.
It all began in the 15th century, when the Prince of Moscow Ivan III ordered to free the land adjacent to the new Kremlin walls of wooden buildings, in order to protect the Kremlin from frequent fires. As a result, an extensive area formed in front of the eastern wall of the Kremlin. Petty trade was allowed there, so the original name of the square was Torg (trade).
The wooden buildings on the square often caught fire, therefore its other name was Pozhar (fire). In the 16th century it began to be called Troitskaya (Trinity), because of the Trinity church standing on the southern part of the square. The name "Red" first appeared in the late 17th century in one of the orders issued by the Tsar Alexei Mikhailovich. The original meaning of the word in Russian was "beautiful, pretty". Soon the area became the center of the city's life. It served as the place of announcement of imperial decrees, meetings and discussions of vital issues. The ceremonies connected with the coronation of tsars, various religious processions were also held there.
In the 20th century the Red Square as well as the Kremlin became the symbol of the new government. From 1918, military parades and demonstrations of workers took place there too. That is where the famous military parade took place on November 7, 1941, whose participants left the square directly to the frontline. It also witnessed the Victory Parade on June 24, 1945. Since the 1990s the Red Square has been the place for festivals, fairs, and concerts.
Different ages left their traces on the Red Square. The 15th century - the Kremlin wall with the Spasskaya, Senate and Nikolskaya Towers; the 16th century – the place of execution and St. Basil's Cathedral; the 19th century - the monument to Minin and Pozharsky, the building of the Historical Museum and the Upper Trade Stalls (GUM); the 20th century - the Mausoleum of V.I. Lenin and the necropolis near the Kremlin wall.