Monasteries of Rostov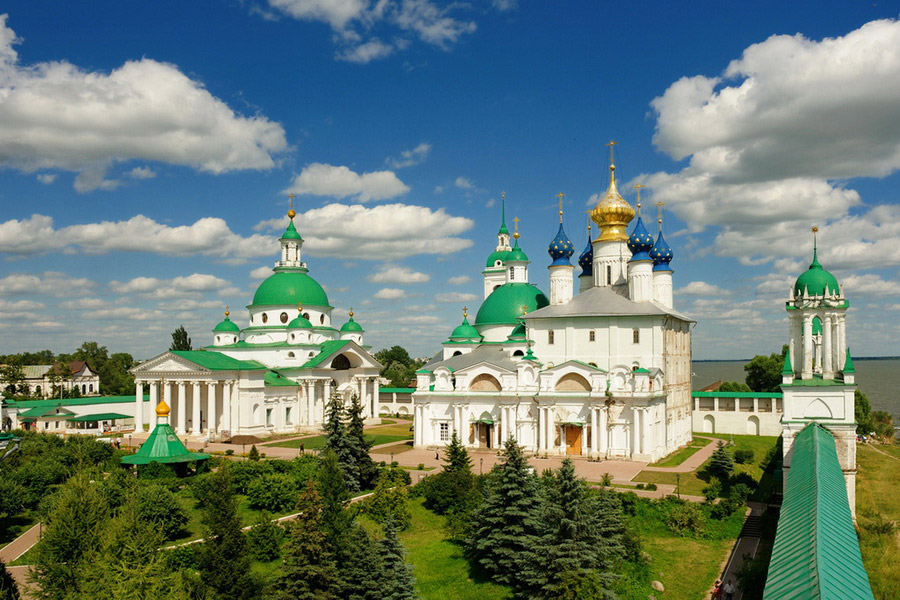 Yakovlevsky Savior Monastery, Rostov
Varnitsky Holy Trinity Monastery
Rostov has another unique holy place - the Varnitsky Holy Trinity Monastery. It is special for the worshippers of St. Sergius of Radonezh. The monastery was founded in 1427 on the very spot of the house belonging to the parents of St. Sergius - Saints Mary and Cyril. The monastery territory comprises the stone Trinity Cathedral with a bell tower (1771), Vvedensky Temple (1828) and other religious buildings. The monastery was famous for its healing water well. After 1917 the monastery was closed and then destroyed. The desolation lasted until 1992, when the chapel was built to commemorate the 600 anniversary of the death of St. Sergius in place of the Trinity Cathedral. In 1995 the revival of the monastery began.
Boris and Gleb Monastery
Located eighteen kilometers from Rostov due Uglich is Boris and Gleb Monastery. It was founded in the late 14th century by the monks from the Trinity-Sergius Monastery, Fyodor and Pavel, the companions of the Reverent Sergius. According to legend the place for the monastery was chosen by Sergius. The monastery was one of the richest in the Rostov. The monastery prospered during the reign of Ivan the Terrible, who made three visits to the monastery and made fifteen contributions. By the end of 17th century the Boris and Gleb architectural complex was completed.
Yakovlevsky Savior Monastery
This monastery is famous for its distinctive architecture. It was created from the 17th to 19th century. It stands on the picturesque shores of Lake Nero, and from afar its domes look like a part of a fantasy city. The monastery has Dmitrievskaya Church in classical style built on Count Sheremetiev's money. Also interesting are the Conception Cathedral and Yakovlevskaya Cchurch. The monastery territory is well kept - flowers and flower beds are everywhere. There is the holy water spring in the yard. The panorama of Yakovlevsky monastery with it beautiful combination of different styles and architectural forms - the pseudo-gothic towers, Baroque and classical elements of the churches – attracts a lot of travelers.
Abraham Monastery
In the eastern side of the city on the shores of Lake Nero stands the 11th – 12th century Abaraham Monastery. According to the legend, it was built on the site of the idol of Veles. Later it became the center of Christianity. Since times immemorial the monastery has kept the crosier given to Abraham by the disciple of Christ, John, with which he defeated Veles the idol. Ivan the Terrible, before the next attack on the Kazan Khanate, came to Rostov to take this crosier. In autumn 1552, after the long siege and bloodshed battles Kazan (the capital of the Khanate) fell. To commemorate that significant event, the Tsar commanded to build the Epiphany Cathedral (1553-1554) in the monastery. It was the royal gratitude for the wonderful crosier, which assisted the liberation of Russia from centuries of oppression.