Transfiguration Cathedral in Tolyatti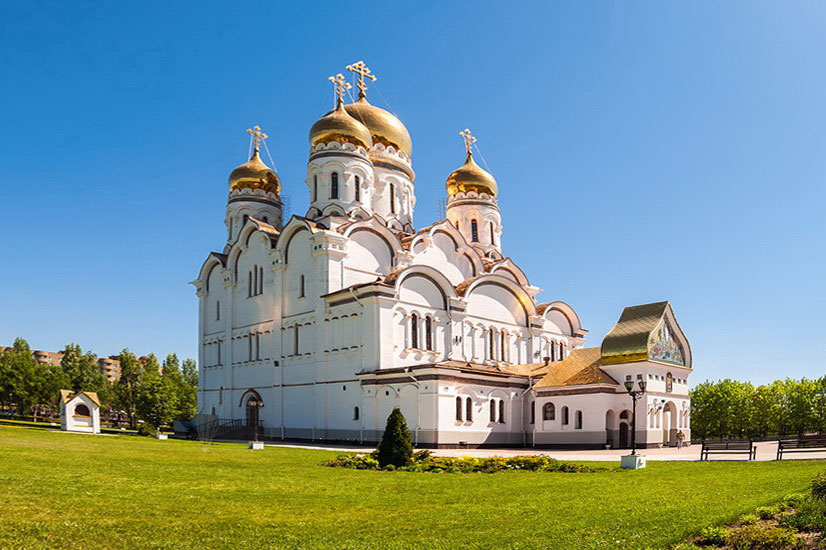 Tucked away in the middle of residential quarters and nondescript apartment buildings in Tolyatti, Russia is Transfiguration Cathedral, the largest church in the Syzran and Samara dioceses. A modern architectural miracle, it can accommodate up to 3,000 people and, at a height of 63 meters, is easily spotted from afar.
Plans for the complex were drafted in 1991, and although construction on the cathedral and its accompanying baptismal church commenced the following year, it was not completed until 2002. Named in honor of Feast of the Transfiguration holiday, a major observance in the Orthodox world, its construction was sponsored by AvtoVAZ, Russia's most prominent car manufacturer which is based in Tolyatti.
Originally intended to stand along the banks of the Volga River, the cathedral's location was moved to the urban Avtozavodsky District so as to be more easily accessible to city parishioners. Despite is impressive size, the church blends naturally, if not rather surprisingly, with the surrounding industrial landscape.
Transfiguration Cathedral displays a unique combination of modern and traditional Russian architecture. The exterior impresses with its scale, grandeur and five large domes, including a massive one in the center. The interior - which consists of three altars, a narthex, basement, choir facilities, a library, refectory and Sunday school classrooms - is no less extraordinary. The floors are lined with mosaics, while brass fittings and engraved carvings adorn its oak doors. Contemporary engineering methods employed on Transfiguration Cathedral in Tolyatti include advanced ventilation and alarm systems and special lighting which illuminates its façade each evening.