Vladikavkaz, Russia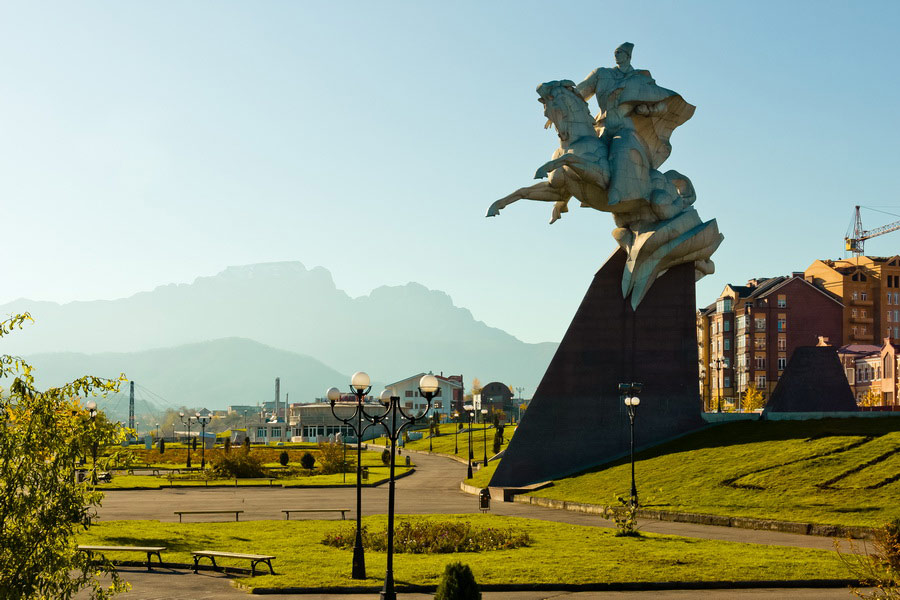 Tours, Attractions and Things To Do in Vladikavkaz
Vladikavkaz Travel Guide
Hospitable and sunny Vladikavkaz, the capital of Russia's Republic of North Ossetia-Alania, captures the heart with its colorful mountain landscapes, historic architecture, kind residents and vibrant local culture.
The city is located on the banks of the Terek River and is almost completely surrounded by mountains which, along with unique Northern Caucasian architecture, make this urban landscape rather irresistible. Upon arrival, luxurious mansions, unusual architecture, parks, museums, theaters, retro trams and cozy eateries serving famous Ossetian meat pies all clamber for visitors' attention, often pulling them back for further visits.
As the largest city in Russia's southern Caucasus, Vladikavkaz is the start and ending point for many regional tourist routes, so after enjoying the city sites be sure to continue onward to the surrounding natural attractions.
History of Vladikavkaz
Vladikavkaz Fortress was built in 1784 to provide protection for the Russian Empire along its southern border with Georgia. The name Vladikavkaz means "I own the Caucasus" and was chosen by Catherine the Great after the Russian Empire extended its power into the region. The fort served a vital protective role for many years even as wealthy merchants and retirees began investing in the region's development, and in 1860 Vladikavkaz attained the status of city. Later in the 19th century, newly laid rail lines in the region led to an economic boom and to an influx of ethnic minorities whose diverse houses of worship and unique architecture can still be seen in the city today.
Vladikavkaz was awarded the title of City of Military Glory after successfully fighting off invading Nazis in World War II. Today it remains an ethnically diverse city with hundreds of Art Noveau and historic buildings. Although no longer a military outpost, Vladikavkaz remains a soulful city with a rich cultural life. Read more...
Vladikavkaz Architecture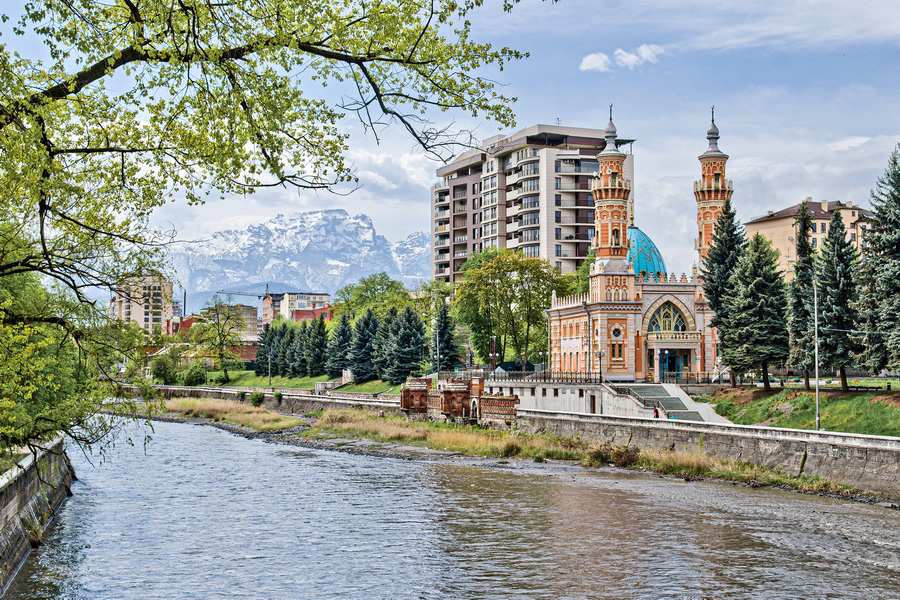 The city of Vladikavkaz is famous for its architecture, and for good reason. The city grew rapidly between the second half of the 19th century and the early 20th century due to the influx of high-ranking retired military personnel who built mansions and summer houses with their hefty pensions. It is believed that the presence of around 75 such individuals led to Vladikavkaz's historic nickname "City of retired generals".
Today the historic city center is a chain of cozy avenues lined with many of these elegant mansions.
Prospekt Mira
Prospekt Mira (Mira Avenue) in Vladikavkaz is a kilometer-long boulevard which serves as the main pedestrian thoroughfare for the historic city center. It promises a pleasant walk amid slender two- and three-story merchants' mansions, inviting coffee shops and other convenient photo opps.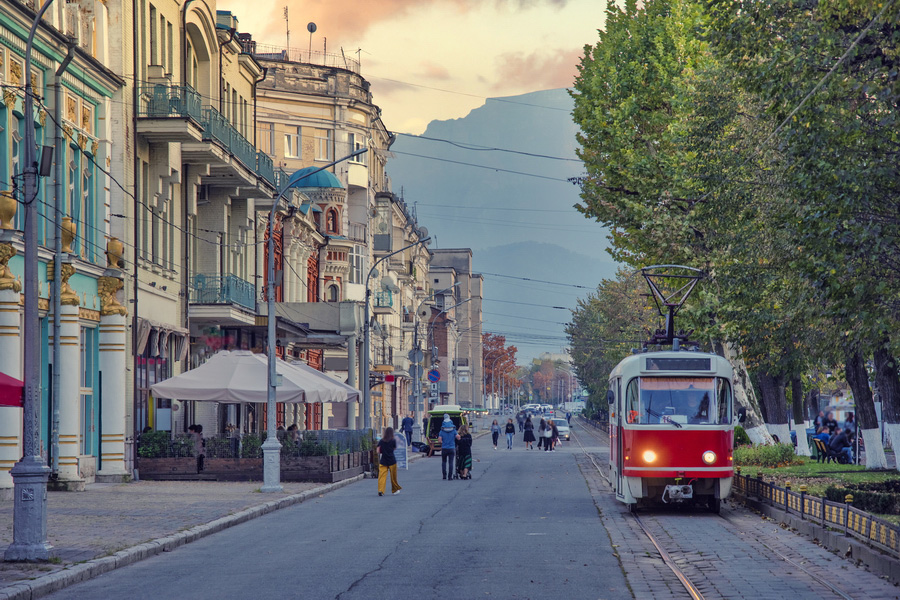 Mukhtarov Mosque
Mukhtarov Mosque, also called Sunni Mosque, is an unmistakable landmark of Vladikavkaz. This delicately carved structure appears to have been lifted from the pages of a fairy tale and is often likened to Cairo mosques of the 10th-12th centuries. Built in the early 20th century, it remains an active mosque to this day.
Imperial Hotel
The main hotel in Vladikavkaz, Imperial Hotel on Mira Avenue has long been a city symbol. The fashionable accommodation was built in 1896, and although there were already 16 hotels in Vladikavkaz at the time, it quickly rose to prominence as the hotel of choice for the city's most honored guests.
Other famous buildings in central Vladikavkaz include:
Oganov Mansion (12 Mira Avenue)
Mansion of the Lawyer Boehme (Pavlovsky Lane)
Yastremsky Mansion (33 Sovetov Street)
Khudyakovs' Mansion (11 Mira Avenue)
English Consulate Building (31 Lenin Street)
As you walk through the center of Vladikavkaz, you cannot miss these unique Northern Caucasian structures which preserve the memory of a bygone era.
Museums and Theaters
Many travelers who come to North Ossetia either visit Vladikavkaz in transit or skip it altogether in their rush to reach the Caucasus Mountains. However, it is here that life can be experienced in full swing and many options for leisurely activities can be found. Museums, theaters, cinemas, concert halls, parks and family entertainment venue all await you in Vladikavkaz.
Theaters
At Opera and Ballet Theater, one of the largest musical theaters in the Republic of North Ossetia-Alania, you can enjoy quality opera and ballet performances by professional dancers, singers and musicians.
Vakhtangov Theater is another large public theater that offers performances for both adult audiences and young viewers. The theater opened in 1871 to host performances produced by outstanding Russian playwrights, including an early performance of "Masquerade" by Mikhail Lermontov. Mikhail Bulgakov staged his earliest plays at Vakhtangov Theater, which regularly hosts renowned Russian actors and theatrical figures to this day.
Narty Horse Theater offers highly unusual performances which combine elements of choreography and circus art subtly interwoven with a dramatic plot. This performance will definitely appeal to family members of all ages!
At the North Ossetian Philharmonic, exemplary performances by an all-male choir are held regularly.
Museums
National Museum of the Republic of North Ossetia-Alania is a museum, research center and exhibition complex with several branches, the main one of which is located in the city center at 11 Mira Avenue. Come get acquainted with a variety of historical findings which date back centuries. In total, the museum complex houses more than 4,000 exhibits which shed light on the history of the region and the peculiarities of the local culture.
M. S. Tuganov Art Museum, located at 12 Mira Avenue next to National Museum of the Republic, has amassed a large collection of works of fine art, including pieces by Levitan, Aivazovsky, Repin, Bryullov, Vereshchagin, Shishkin, Korovin and other acclaimed artists.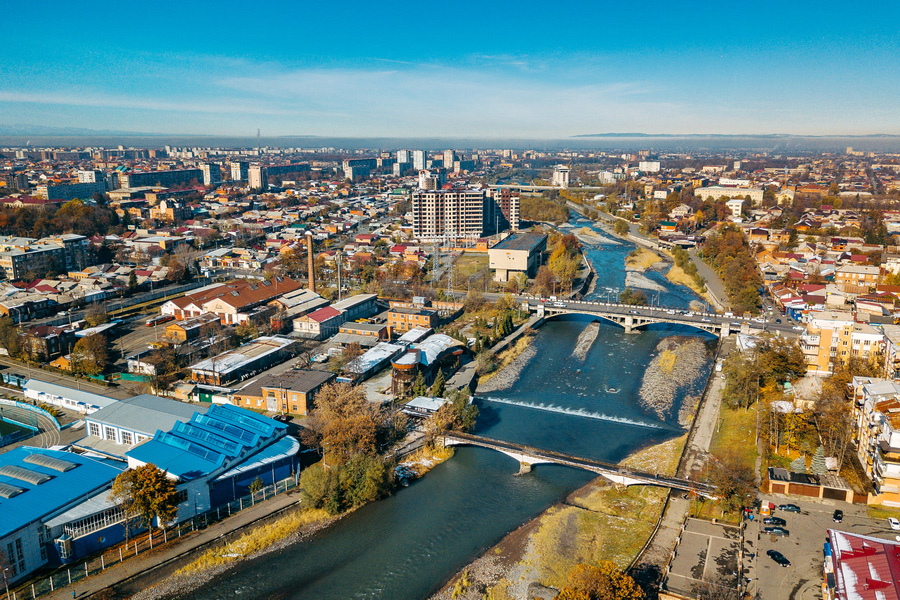 21st-Century Entertainment
As in any other major city in Russia, Vladikavkaz is home to a whole host of modern entertainment venues, including quests, laser clubs, time cafes and more.
Outdoor Vladikavkaz Attractions
While there are plenty of manmade attractions to see in Vladikavkaz, outdoor adventures also await travelers, both beyond city limits and even before you depart the mountain metropolis.
Table Mountain
Table Mountain, which at 3000 meters is the highest ridge in the Caucasus, rises above Vladikavkaz as an unmistakable feature of its natural landscape. Table Mountain is depicted on the coat of arms of both the Republic of Ingushetia and Vladikavkaz, for it is located on the border between the two entities. Due in part to the 4th-8th century ruins located on Table Mountain, North Caucasus residents have long viewed it as symbolic of Olympus.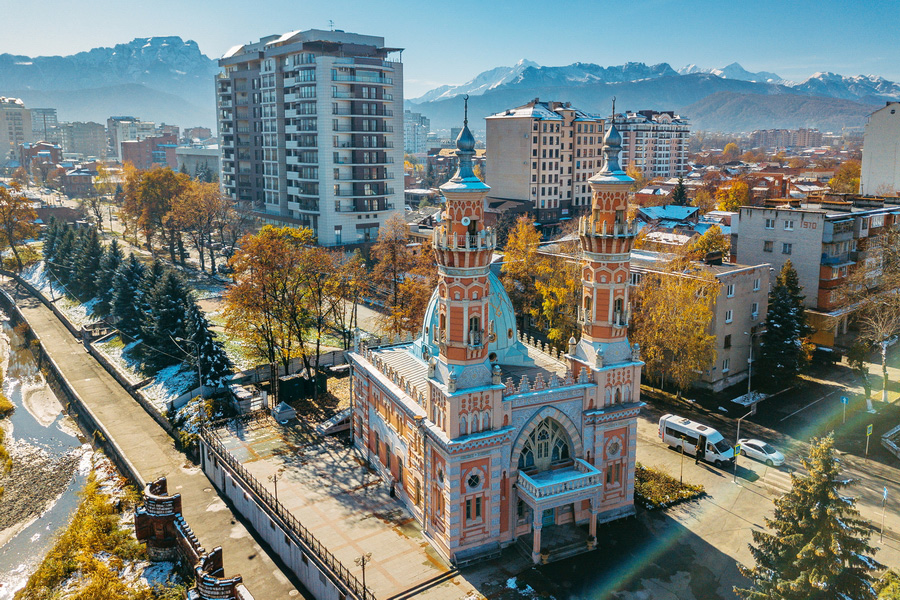 Kosta Khetagurov Park
Kosta Khetagurov Park, the oldest park in the entire North Caucasus, consists of upper and lower terraces along the Terek River, shady pathways which provide welcome relief in the summer heat and a calming lake populated with swans. Cafes, boat rides and other entertainment options combine to create a fun and restful atmosphere.
Vladikavkaz Souvenirs
Like the rest of the Caucasus, the Republic of North Ossetia-Alania offers guests an exquisite array of gifts so you can carry the memory of a Vladikavkaz vacation home with you.
Among the most popular gifts are wine vessels in the shape of a horn, which often include an engraving on a metal border and may be either decorative or unpainted. Dishes, coasters, potholders, fragrant spices and delicious local pies are also popular souvenir choices from Vladikavkaz.
Specialty gifts for men include leather belts, wallets and decorative metal plates, all of which are made with embossed patterns, ornamentation or symbols of the republic such as horfreses, leopards, deer or double-headed eagles.
Women can be presented with openwork earrings, bracelets, pendants, combs and hair clips made of wood, as well as textiles or wool shawls in colorful oriental patterns. Ceramic products suitable for everyday use include coffee cups, small teapots, serving bowls and elegant jugs adorned with national motifs.
National costumes for both genders reflect the vibrancy of the North Caucasian culture of Vladikavkaz and can make an excellent souvenir for relatives and friends.