Vyborg, Russia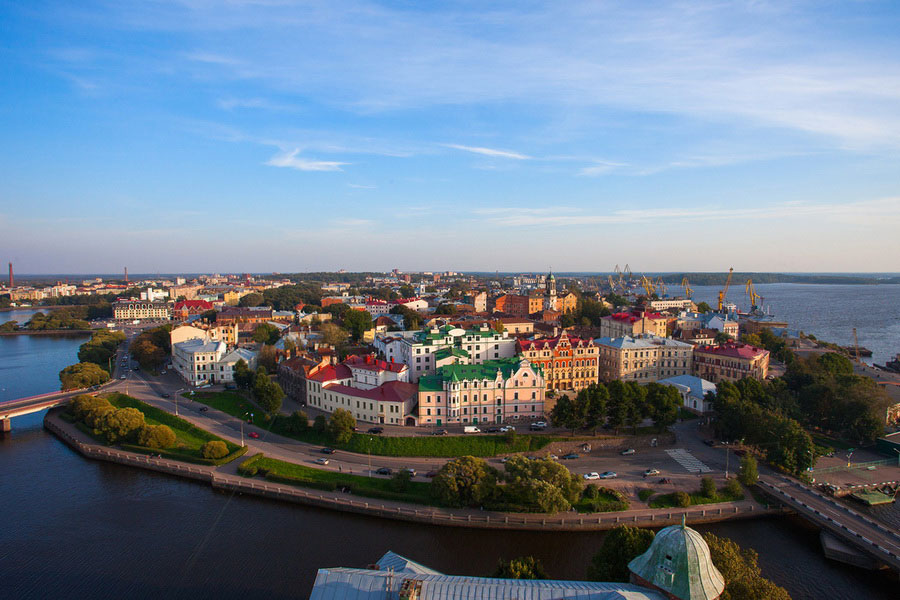 Old City view, Vyborg
Tours, Attractions and Things To Do in Vyborg
Vyborg Travel Guide
Vyborg, Russia is located in Leningrad Region on the eastern coast of the Gulf of Finland, some 120 kilometers from St. Petersburg. Founded by Swedes and maintaining a distinctly European vibe even to this day, it is best known for Vyborg Castle, a once-strategic fortress which served as a buffer between the Russians and Scandinavians.
Vyborg History
Torkel Knutsson was Lord High Constable of Sweden and regent of the young King Birger Magnusson in the late 13th- early 14th centuries. During a military campaign against the Novgorod Republic in 1293, Knutsson conquered part of Karelia and in triumph built a castle on Volov Island, from which the city of Vyborg was born.
In the coming centuries, Vyborg would be ruled by Sweden, Finland, and Russia in turn. The Finns assert that the name Vyborg is a reference to the Finnish ferryman Whipponen, who moved to the Swedish outpost in the 13th century. Many Russians believe that the city was named by immigrants from Novgorod, since "vyborg" is close to "vybor", the Russian word for "choice." Translated from Swedish, Vyborg means "Holy Fortress."
The city largely prospered thanks to its strategic position and the huge role that trade played in its economy. During the Great Northern War of 1710, Peter I's troops captured the citadel in the famous Siege of Vyborg, a decisive victory which virtually eliminated the threat to St. Petersburg from its northern neighbors. Since then, the city belonged to Russia until 1917 when it seceded from Russia with Finland after the Russian Revolution. Vyborg was returned to Russia in accordance with the peace treaty signed after World War II and has remained under its control to this day.
Vyborg Attractions
Vyborg is perhaps the only city in Russia where nature, modernity and the Middle Ages mingle so artfully. Be it a chivalrous medieval castle, a rock landscape park or Karelian pines growing atop moss-covered boulders, the city beckons travelers to step away from the tourist traps into a region of authenticity and charm.
Vyborg Castle, the must-see fortress where it all began, is located on an islet that can easily be reached by a foot bridge. From Olaf Tower, the tallest point on the island, you can enjoy great views of Vyborg Bay and the city center.
Old Town Hall Square is Vyborg's historic center and the site of the first administrative building, built in the 17th century. It is best known for the 1908 statue of Vyborg founder Torkel Knutsson.
Vyborg Market Square is lined with picturesque old homes and buildings, the most noteworthy being the stout 16th- century Round Tower and the spire-topped Merchant Vekrut's House.
Old Vyborg Market (Central Market) is the perfect place to buy Finnish goods and the city's famous spicy pretzels, which have been around since the 14th century. At the Christmas Market and folk festivals periodically staged here, visitors can purchase crafts reminiscent of Swedish Vikings and knights, including weapons, ship models and Viking bracers.
Alvar Aalto Viipuri Library, which was built in 1935 by Finnish architect Alvar Aalto, is a reflection of the transitional period from neoclassicism to regional modernism. Renovation work in 2014 restored the library to its original appearance.
Hermitage-Vyborg Center was designed by a Finnish architect in 1930 on the site of a medieval fortress. It has been home to a small museum and art gallery since 2010.
Lenin and Esplanade Parks can be enjoyed when the chilly Vyborg weather permits. Hidden along their pathways are the Church of Saints Peter and Paul plus a 400-year-old pine tree, an antique pavilion, and a sculpture of a Karelian epic hero.
Monrepos Park, meaning "My Peace", is Vyborg's central park which is populated with dozens of species of trees and adorned with statues.
Vyborg Clock Tower was built in the 15th century as the bell tower of Vyborg Cathedral, and in recent years has been undergoing extensive renovation.
Anninskie Fortifications are 18th-century battlements built along the Gulf of Vyborg. Today various historical reenactments, festivals and tournaments are held on the grounds.
Other notable sites include the House of the Merchant Guild of Holy Spirit, once owned by Swedish and German traders; Spaso-Preobrazhensky (Transfiguration) Cathedral; Peter the Great statue and a monument to Count Fyokor Apraksin, 18th-century governor of Vyborg.
Travelers wishing to relive medieval times and enjoy an eclectic arctic town will not be disappointed in Vyborg, Russia.