Yaroslavl Monuments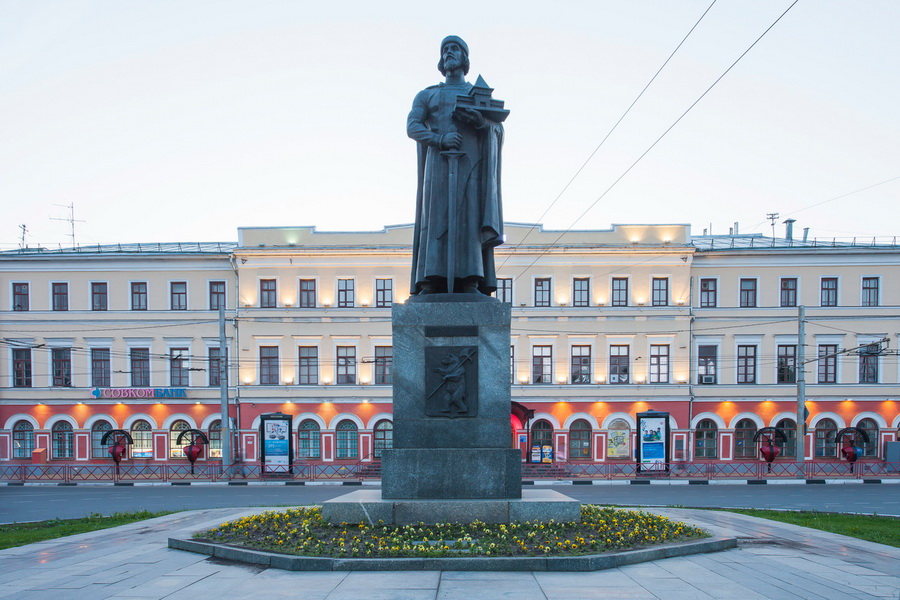 Yaroslavl monuments are an integral part of this historic Russian city located near Moscow in Yaroslavl Oblast.
The crowning figure is the monument to Prince Yaroslav the Wise, the founder of the city. It rises on Epiphany Square, where it was erected in 1993. In the sculpture, Yaroslav is intentionally depicted with a lowered sword to symmbolize his peacefulness. The statue faces the road from Moscow to Yaroslavl to indicate good relations with the capital, while additional symbols chiseled into Prince Yaroslav the Wise Monument speak of the versatility of a prince as a builder, creator, brave warrior and wise ruler.
Fyodor Volkov Monument was erected on the square of the same name in Vlasyevsky Garden. The garden is next to Academic Drama Theater which Volkov founded. The sculpture is life-sized, with the hero depcited in a stage costume and his arms folded across his chest as he appears to gaze at the theater he created. Fyodor Volkov Monument, created in 1973, was designed by local architects.
Holy Trinity Sculpture was erected in Yaroslavl in 1995 to celebrate the 1000th anniversary of the baptism of Russia. This statue is significant in that it is the only monument in Russia dedicated to the Holy Trinity. It is located in the center of Yaroslavl near Strelka Fountains and depicts three figures mounted on a circular granite pedestal which is augmented by quotes from the Bible. The authors of Holy Trinity Sculpture relied on the icon of the Holy Trinity, painted by A. Rublev in 1427, when creating their project.
In Yaroslavl you will see images of a bear everywhere, for the bear is a symbol of Russia and legendary among the Yaroslavl population. Monument to Bear, located near Spaso-Preobrazhensky Monastery, was presented to the city in 2009, a year before the celebration of its millennial anniversary. The bear is depicted with its paw raised as it snarls and charges forward. The sound of its roar is played every hour, reminding onlookers to Monument of Bear of its fearsome power.