Fan Mountains, Tajikistan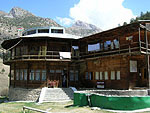 The Fan Mountains offer unique sceneries of the virgin nature, bewitching beauty of snow tops, blue mountain rivers and lakes. Everyone who has visited them once, left with indelible impressions for the rest of his life.
The Fan Mountains form the highest part of Zeravshan ridge. Those are hundreds the most beautiful tops located on the branches of the Hissar and Turkestan ridges, in the southwest of Pamir-Alay. Eleven tops exceed 5,000 m. They feature quaint peaked forms and glaciers. Among them are Bodkhon (5,138), Energia (5.105), Zamok (5,070) and Chapdar (5,050). The highest in this region is Chimtarga (5,487). Around 30 lakes are "forgotten" in this area. The largest of them is Lake Iskanderkul, but the most beautiful and picturesque is Lake Kulikalon. Each lake is mysterious and surrounded by an aura of legends.
This place is created by the nature especially for climbers, mountaineers and other fans of active vacation in the entire Central Asia. They attract travelers not only by captivating beauty of the nature but also by variable environment, rich flora and fauna.
Dozens of routes across the Fan Mountains passes will help you to get better acquainted with the rich nature of this corner of mountain Tajikistan, to see its most beautiful places.
"I left my heart in the Fan Mountains. Now I heartlessly walk o'er plains" - Jury Vizbor, a famous song writer used to sing. So does everyone who has spent a vacation in the Fans.