Tajik Traditional Clothes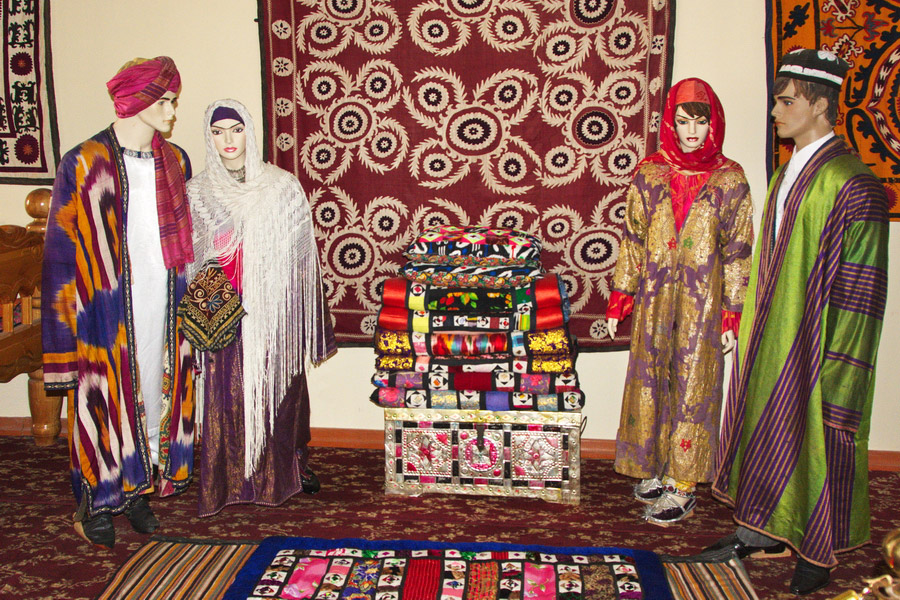 Tajik traditional clothes differ from region to region in terms of color, mbroidered patterns, style. But there are some common features in every national costume.
A tunic-type shirt, wide trousers, a quilted dressing gown, a waist scarf, a skull-cap or a turban, leather boots, galoshes with pointed toes (which are frequently worn over boots ) - for men, a tunic-type dress, wide trousers, a kerchief or a skull-cap - for women. Modern peasants still adhere to the national style in clothes.
Girls and women wear skullcaps and scarves mostly for various occasions (weddings, birthdays). National jewelry is mostly made of silver. They are very massive, forged, embossed: necklaces, pendants, earrings and rings.
Rumol is men's cotton waist kerchief, decorated with embroidery of various colors - by basma stitch or double-sided satin stitch. Patterns of floriated nature resembling Arab script predominate mainly on them.
Toki – kallapush (skull cap) is a traditional part of the national Tajik costume. The most popular are "chusti", men's black and white skull caps with bodoms (almond) or kalamfurs (capsicum) embroidered on white silk. Along with them, however, light semi-spherical machine-embroidered skull caps – arakhchin are met in many areas of Tajikistan. There are several traditional types of composition and ornamental patterns for them. Women's square skull caps with bright "florinated" patterns embroidered with cross stitch are widely used. Tajik round flat-bottomed skull caps embroidered with satin stitch with colored silk sowings are also known in Pamir.