Mary Sights, Turkmenistan
Ancient Settlement of Merv - Major Mary Attraction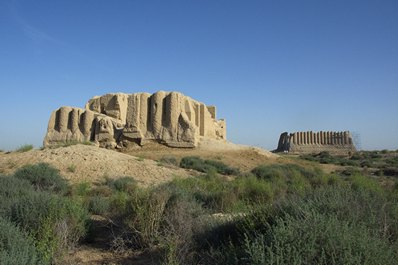 Mary is relatively a new city; it explains absence of ancient monuments there. Mary sights within the city are monuments to commemorate Turkmen poet and educator Mollanepes, Kemin, Makhtumkuli; the Eternal Fire monument to the honor those who participated in the Great Patriotic War and combat operations in Afghanistan (1979-1989), as well as the monuments of "Motherland" and "Eternal Glory".
But Mary outstands among tourists for a range of archaeological and architectural monuments in its surroundings. Here, we are talking about the ruins of the world-famous ancient city of Merv. In fact it has several names: Margush, Margiana, Maru. Merv had been the capital of the prospering Margiana area and the major center on the Great Silk Road long before approach of our era. Attractions of the Merv are the dream of a traveler who is interested in ancient cultures and vanished civilizations. Today this territory keeps the remains of at least five ancient cities of various periods. Unfortunately, the most part of the buildings and structures in such poor state that only history books or Oriental literature works can tell us about former majesty of their sights. For example in "One Thousand and One Night" Merv is mentioned as the administrative and cultural center of Arabian Caliphate. The chroniclers named it "the mother of cities of Khurasan" and " the city on which the Universe rests". Read more about Merv...
Merv Monuments And Fortresses
Erk-Kala
Erk-Kala was the center of ancient Merv. The fortifications of Erk-Kala have sagged under earth drifts but nevertheless, have preserved their height and power. Read more...
Gyaur-Kala
Gyaur-Kala was one of the most powerful ancient structure with the area over 300 hectares. The walls of Gyaur-Kala are square with the hills of towers put at identical distance from each other. Read more...
Sultan-Kala
In the 11th-12th centuries Merv became the capital of Great Seljuk state and reached the highest prosperity. Read more...
Abdullakhan-Kala
Abdullakhan-Kala fortress is connected with the name of Tamerlane's son Shakhrukh. It was one of his first constructions on the territory of New Merv. Read more...
Bairamalikhan-Kala
Another landmark of New Merv is Bairamalikhan-Kala. The fortress was constructed in the form of a three-wall structure and connected to the western wall of Abdullakhan-Kala. Read more...
Mohammed ibn-Zeid Mausoleum
Mohamme ibn-Zeid Mausoleum is an outstanding monument of Sultan-Kala. It relatively small but arouses admiration by its original architectural solution. Read more...
Sultan Sandzhar Mausoleum
The most majestic architectural monument of Merv is Sultan Sandzhar Mausoleum also known as "Dar-al-Akhyre" ("The Other World"). It vividly reflects the greatest achievements and prosperity of Seljuks. Read more...
Yusuf Khamadani Mosque
This complex was built on the burial site of Abu-Yakub Yusuf ibn Ayub born in the city of Hamadan (western Iran). Above his tomb the mausoleum, which have not survived, was erected. Read more...
Major and Minor Kyz-Kala
While travelling in Mary oasis you frequently see silhouettes of hills-fortresses which have stackedd from time. These are numerous manors-keshks of medieval feudal lords. The biggest of them are historical landmarks Major and Minor Kyz-Kala. Read more...
Talkhatan-Babab Mosque
30 km from Old Merv is a medieval settlement Tal-k-hatan. There on the local cemetery Talkhatan-Baba Mosque was constructed in the Middle Ages. The mosque looks like a high regular rectangular. Read more...
Kharam-Keshk Castle
Kharam-Keshk is s ingle c astle of dehkhan estate near Gyaur-Kala. It used to be a dwelling house in the 9th-13th centuries. Read more...
Ancient Settlement of Durnali
The ancient settlement of Durnali is located at 25 km from Gyaur-Kala Fortress. Th ere you can see numerous ruins of the 9th-12th - century structures. Read more...
Akuili-Koushuk
2 km from the ancient settlement of Durnali are the rulings of a medieval keshk Akuili-Koushuk. Read more...
Ancient Settlement of Gebekly
The ancient settlement of Gebekly is related to the early Parthian period. It is located 32 km from Gyaur - Kala. Read more...
Aivans of Askhabs
This poetical name was given to the mausoleum complex of the so-called Askhabs - the "associates" of Prophet Mohammed: Bureid ibn Al Khusseib Al-Aslami and Al-Khakim ibn Amr Al-Gifari. Read more...
Cave Settlement of Ekedeshik
This cave was mentioned in many Turkmen legends and tales. Some of them say that caravans of camels going in two lines could enter and exit the cave. It is hard to prove this now. Read more...
Gonur-Depe
Not so long ago, in 1990 s, archeologists open ed up a huge necropolis related to the 2000-1000 B.C. in Mary oasis. There was a capital city now called Gonur - Depe with its palace and several temples capable of competing with the structures of Assyria and Babylon. Read more...