Uzbekistan Books
Uzbekistan Books - Recommended by Advantour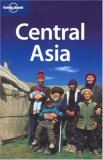 by Bradley Mayhew (Author), Greg Bloom (Author), John Noble (Author), Dean Starnes (Author)
Book Description
Lose yourself among the blue domes and mosaics of the Registan in Samarkand, Uzbekistan.
Play Marco Polo, exploring Silk Road forts while bathed in the light of the snowcapped Hindu Kush in the Wakhan Valley, Tajikistan.
Watch a Kyrgyz eagle hunter in action and taste the delights of fermented mare's milk in Kyrgyzstan.
Follow in the footsteps of British spies, Chinese pilgrims and Russian explorers and embark on your own Great Game.

by Calum MacLeod (Author), Bradley Mayhew (Author), Calum Macleod (Author)
Book Reviews
New York Times
The best guidebook to bring is in the Odyssey series....a joy to read whether or not you are planning a trip.
Peter Hopkirk, author of The Great Game
Quite excellent. No one should visit Samarkand, Bukhara or Khiva without this meticulously researched guide.