Asrlar sadosi ("Echo of Ages")
«Asrlar sadosi» Festival of Traditional Culture ("Echo of Ages")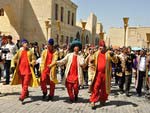 "Asrlar sadosi" is an annual festival of folk traditions and customs, crafts, national cuisine and music, every time held in different cities of Uzbekistan. Usually the festival is held in spring, in May, and lasts two days off, during which there are massive costumed festivities with songs, dances, folk games and contests that are held outdoors.
The festival annually attracts over thousand participants: folklore groups, craftsmen, athletes, musicians, cooks and dozen thousands of people - tourists and residents of Uzbekistan.
For two days the streets turn into a huge bazaar, where you can buy silk fabrics, luxurious carpets, fragrant spices, patterned pottery, as well as try the Uzbek national cuisine: golden plov, succulent kebabs, samsa which melts in your mouth and, of course, the Uzbek bread - crusty and ruddy lepyoshka.
The main organizer of this festival is the Fund Forum of Culture and Arts of Uzbekistan. The first Asrlar Sadosi Festival was held in 2008 near Shakhrisabz. ince 2009 Asrlar Sadosi Festival of Traditional Culture is organized in association with the UNESCO: two days of the festival was organized in Tashkent region. In 2010, the Festival took place at Ichan-kala, a historical architectural complex in the heart of Khiva city. In 2011 Asrlar sadosi took place in Bukhara, in 2012 Toprak-kala fortress in Karakalpakstan was chosen to host the festival.
The 6th Festival of Traditional Culture "Asrlar sadosi - 2013" was held on May 4-5, 2013 in Navoi region near Sarmish-say gorge.
According to tradition, established during these six years, the festival organizers hold round table discussions, seminars and workshops on culture, ecology, the development of national art, bringing together experts, academics and international guests. At the end of the second day of the festival all its participants and spectators were invited to the final gala concert of folk music, attended by the creative bands from all over the country.
Photogallery of "Asrlar sadosi" - 2011
Photogallery of "Asrlar sadosi" - 2012
Photogallery of "Asrlar sadosi" - 2013