Igor Savitsky, Founder of Uzbekistan's Nukus Museum of Art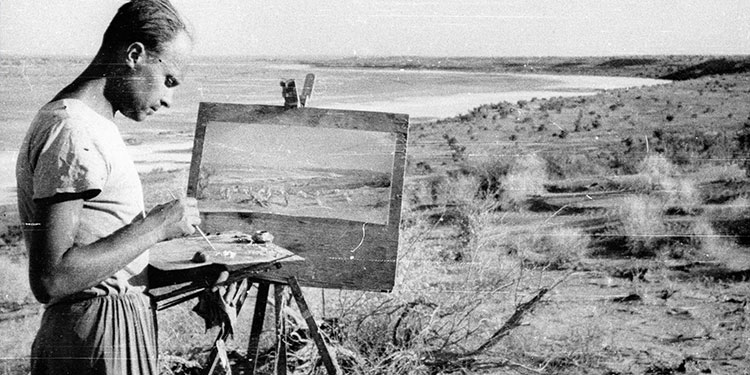 Igor Savitsky on Plein Air
Igor Vitalievich Savitsky is known as the legendary founder of Uzbekistan's Nukus Museum of Art (commonly referred to as Savitsky Museum), yet few know the personal life and history of this brave and determined man.
In recent decades, hundreds of articles, interviews and documentaries have shone a light on Savitsky and the acclaimed museum which he founded and ran for 18 years. An internet search will pull up hundreds of sites dedicated to the artwork that he salvaged during the Soviet era. This massive collection, whose fate still captures the imagination of the world art community, is stored at Savitsky Museum, now guardian of the world's second-largest collection of Russian avant-garde art.
Yet until the early 2000s, amassing information on Savitsky himself proved challenging: during his lifetime he kept most details of his personal life a secret, such that even his closest circle of friends, classmates and the relatives of artists from whom he collected paintings have only been able to provide fragmented bits of information on this mysterious man.
Although recollections of him stretch back to the 1970s and early 1980s, only in recent times has a true attempt been made to record and consolidate these memories. In 2018, Marinika Babanazarova, successor of Savitsky, visited the grave of Igor Vitalievich's close relatives, who emigrated to Nice after the 1917 Russian Revolution. The family burial at the Russian cemetery in Kokad, Hungary made it possible to delineate a small circle of Savitsky's relatives, which given the dearth of information on his life is nothing short of impressive. It was established that his mother was the daughter of the famous Professor Timofey Florinsky, who represented many noble families of the Russian aristocracy before being shot during the 1919 Red Terror in Kiev, a tragic event now infamous in Europe.
Savitsky's first uncle was head of a branch of the People's Commissariat for Foreign Affairs and author of the first Soviet modus operandi for diplomatic affairs. He was arrested twice and shot in 1937 during the purges carried out against Soviet diplomats. Information about his burial in the mass grave of Donskoy Monastery in Moscow has only recently been made public. Even Savitsky himself was likely unaware of this fact, although he lived with his mother after moving from Kiev to Moscow and thus could possibly have been informed of the tragic occurrence. In late 2019, information was gathered on Savitsky's second uncle, Igor Savitsky, who taught for years at Stanford University in the USA and was buried in Switzerland.
Igor Savitsky himself was born in Kiev in 1915. Despite childhood challenges, the young Savitsky maintained an indomitable spirit, a quality likely shaped through his traditional upbringing and strong family ties. In order to master skills widely coveted in the 1930s, Igor studied privately with various renowned artists, including Ruvim Moiseevich Mazel. After entering the Surikov Institute, he became a student of the world famous artists Robert Falk, Aleksander Ulyanov and Konstantin Istomin.
During World War II, the institute at which he was studying was relocated to Samarkand, Uzbekistan. Savitsky was captivated by the region's seemingly bright, magical environment, the rapidly changing sunlight and the play of colors that resulted. It was here that he, according to his own account, truly took shape as an artist. In 1950, on his second trip to Uzbekistan as a member of the Khorezm Archaeological-Ethnographic Expedition, he went to Karakalpakstan to document the expedition's findings with drawings and sketches. As he painted landscapes of fortresses and villages, deserts and the cities of Khiva and Nukus, the region captured his artist's heart.
In 1956, Savitsky left Moscow to permanently relocate to Nukus, where he fell even more in love with its culture and folk art. Although Karakalpakstan became to Savitsky what Tahiti had once been for the great Paul Gauguin, Savitsky actually abandoned painting to become the director of a new museum, stating that you cannot pursue two things at the same time. Sacrificing his passion for painting, he focused his full strength and efforts on amassing artwork for the new museum.
The uniqueness of Savitsky as museum curator is that he, never one to live within the confines of conformity and cliches, established a museum that in those days had absolutely no equivalent. Rejecting the model of the "small Tretyakov gallery" which was wholly dictated by the governing Soviet bodies, he instead created a museum which aligned with his own vision and intuitions.
The concepts of highlighting an artist's collections in their entirety, from sketches to completed works, as well as displaying entire schools of art and early twentieth century trends, was reflected not only in the selection of exhibits, but also in the manner of their display: Every wall of the museum was hung from floor to ceiling with paintings.
Savitsky's flexibility, foresight, keen eye and courage in branching out in artistic endeavors paid off, as did his bold deviation from the inveterate canons of museum protocol. The results proved not just the viability but the originality and truth of his concepts. During the ensuing decades, from 1966-1984, Savitsky discreetly procured and hid thousands of pieces of artwork, salvaging them from near-certain destruction at the hands of the repressive ruling party. He risked his life and freedom at the hands of the Soviets, who at that time vehemently banned artwork that contained political undertones or failed to conform to approved and lackluster norms. Savitsky sought out and discovered hundreds of artists, forgotten or altogether unknown to art critics in Russia and Tashkent, and today artists such as Vladimir Lysenko, Nikolai Tarasov and Arkadiy Stavrovsky are represented only at the Savitsky Museum in Nukus.
In despair, Savitsky once lamented that just as in Auschwitz, the paintings locked on the shelves of the museum's storerooms were inaccessible to experts and enthusiasts due to ignorant officials restricting his activities. Yet at the same time he believed that "the time will come when people will come from Paris just to see our museum".
Savitsky remained in Nukus until shortly before his death in Moscow in 1984. He is buried in the Orthodox cemetery in Nukus and was awarded a number of posthumous government awards, including the Order of Buyuk Hizmatlar in 2002. His students erected a statue on his grave which depicts a boy playing the flute, a monument made by a local sculptor to symbolize the grieving soul of art. Today, guests from around the world visit his grave after touring Nukus Museum of Art, paying tribute to the memory of the great art collector of the 20th century, Igor Vitalievich Savitsky.