German Kirche, Tashkent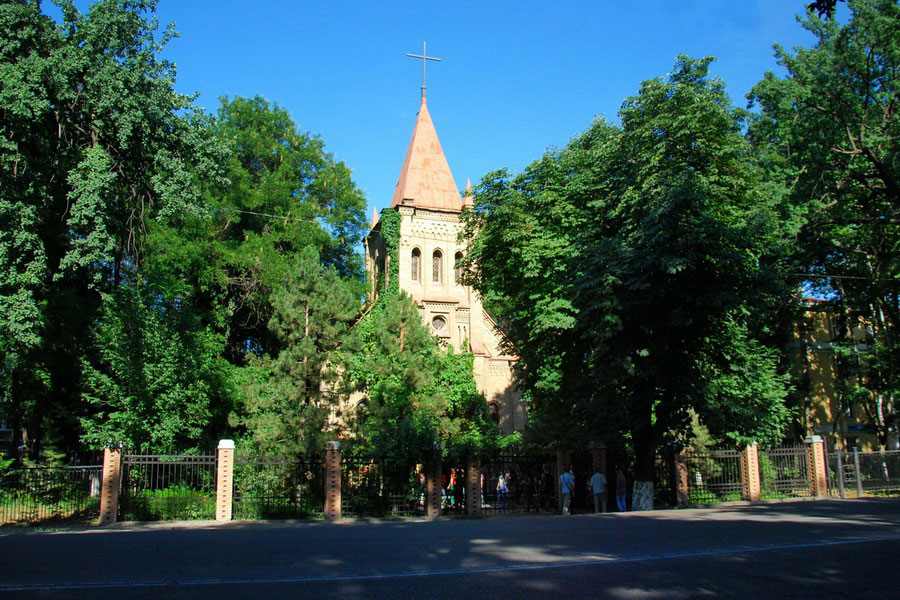 A gothic building of German Kirche has been overlooking over green shades of age-old trees for over hundred years, on the Sadiq Asimov street, 37.
The German Kirche or the Evangelical Lutheran Church is the only Lutheran Church in Tashkent. It was built by the Tashkent Lutheran community by the project of the famous Tashkent architect and the 19th century artist of A.L. Benoit in 1899.
Like the rest of the buildings in the colonial Turkestan the church was built of brown-yellow brick laying out in the spirit of the Baltic church architecture: the style of its construction refers to the neo-Gothic architecture.
In Soviet times, the building of church shared the fate of all church buildings: it had been used as a warehouse for a long time, and at the end of the 1970s it passed to the Tashkent Conservatory, and after the restoration it hosted opera studio of the conservatory.
At that time an organ was installed in the church, concerts of organ music were regularly held. In the 1990s it was passed to the newly established Lutheran community.
History of the Lutheran community of Tashkent extends back over 125 years, during which it saw both growth and decline. Today Tashkent Lutheran community numbers over 200 parishioners, and about a hundred parishioners in Fergana.
Parishioners of Tashkent church are mostly Tashkent Germans. Before the revolution there were quite a lot of them in Tashkent. Most of them were officers. They got here in the 19th century, during the royal service. Today Kirche, where services are still conducted, is visited by their descendants, as well as foreigners.
The church service in the Lutheran Church is based on the traditions of the Catholic Mass, but is more simplified. Home service in the Lutheran Church is ministered in the German and Russian languages on Sundays.
The church pastor that officiates is elected by the congregation of the parishioners and does not have to pass a rite of initiation, such as the Catholics do. During the Mass, the priests are dressed in liturgical vestments. The main part of the Lutheran liturgy of the Mass is the liturgy of the faithful (anaphora).
During the service, the parishioners sing hymns in German to organ music. The interior of the church is more modest than in Catholic church.
As Lutherans do not worship relics and icons, but revere them, there is a limited number of images of Christ and the apostles in the church. Altar is the central place in the Lutheran church, as well as in a Catholic church. Also in the Lutheran churches there are such traditional attributes as the crucifix, the sacred flame (lamp) and candles.
German Kirche in Tashkent - Photos: