Fortress Kirk Kiz, Termez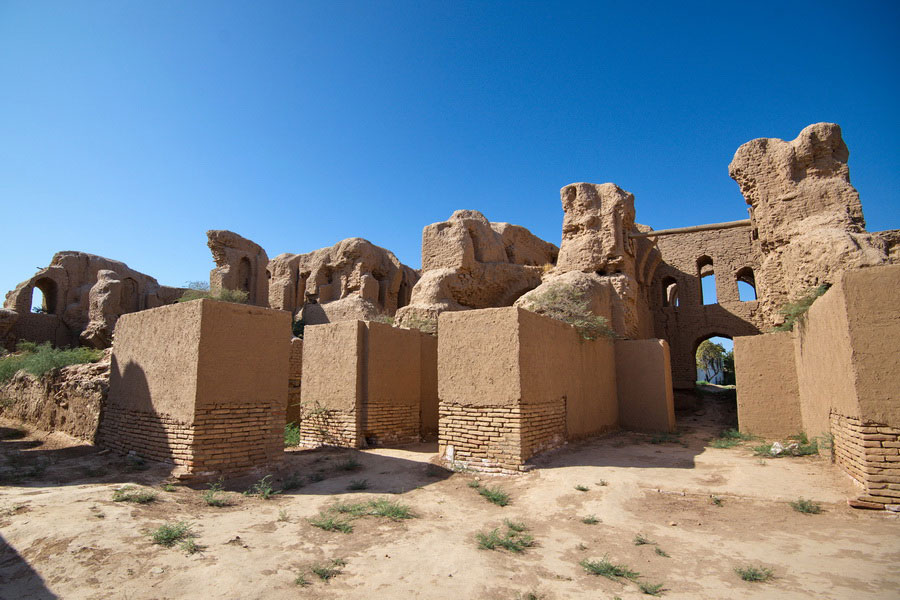 The unique "Kirk Kiz" building ("forty girls") which has attracted the attention of researchers for a long time , has been variously considered as a palace, an abbey, a caravansarai, Hanaqoh, or just simply a civil construction. The complex "Kirk Kiz" is situated 3 km. from the ancient city of Termez. Local tradition connects it with the well-known national legend in which the princess Gulaim and her forty girls bravely struggled against raiding nomads.
The building of "Kirk Kiz" is a square of about 54m each side of raw brick construction. At all corners of the building were protected by strong towers. There is an inside arched aperture, and also some large windows cut through each facade. There are two in intersections in the hallways placed on the two axes of the building dividing it into four equal parts. There is a little square courtyard in the centre of the building (11.5x11.5m), covered by a dome (to the mind some scholars, but according to another there was no overhead cover.
The two northern quadrants of the building have identical floor plans. They consist of a group of five rooms that exit onto a three-sided Russian II letter shaped hallway. The southwest quadrant of the building is almost identical. The largest three-pillar room was used as a sitting room in the southwest quadrant of the building. The different system of its roofing and style, the design of the bay walls, window frames and doorways are examples of raw brick architecture.
Pictures of Kirk Kiz Fortress