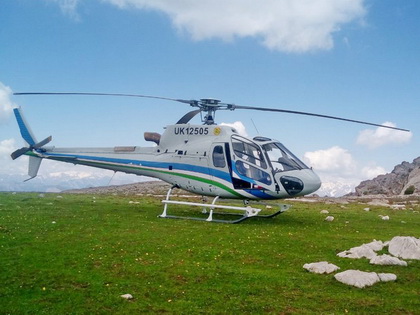 The Pulatkhan Plateau is the pearl of the western Tien Shan, which is hidden behind the Big Chimgan Mountain. To see Pulatkhan, you need to climb one of the nearby peaks, and the walking route to the plateau is more than 40 km and takes 2 days!
Our helicopter tour to the Pulatkhan Plateau will allow you to see this natural landmark in just one hour, with the countdown starting at the Tashkent airport. The helicopter flight itself is already an exciting experience, and together with Pulatkhan it will be just a grand journey.
Arriving at the plateau, you will land on its eastern side, where the steepest cliffs are located. A walk at the edge of the abyss will leave you with many vivid impressions and trembling sensations! And don't forget to take a camera to save all the impressions of the helicopter tour to the Pulatkhan Plateau.
Attention: the tour uses Airbus H-125 helicopters (capacity 4 passengers) or Airbus H-130 (capacity 5 passengers)
Tour itinerary:
Tashkent – Pulatkhan Plateau – Tashkent
Meeting with the driver at your hotel in Tashkent. Transfer to the local airport (30 minutes). Departure to the Pulatkhan plateau. The flight lasts 40 minutes and can be divided into three parts:
First you will see Tashkent from a height, the surrounding fields, the Chirchik River and small villages.
Then the ridge of mountains and gorges will begin, where the powerful massif of the Big Chimgan Mountain will stand out on the horizon, and the Nurekata and Aksakata rivers will be barely visible far below.
And in the end, behind the next mountain range, a powerful mountain, known as the Pulatkhan Plateau, will suddenly appear. You will fly past its steep cliffs and land on the far eastern edge of the plateau.
Here you can walk along the picturesque cliffs, admire the surrounding mountains and take many memorable photos.
After the walk, boarding a helicopter and flying back to Tashkent. Our driver will meet you at the airport and take you to the hotel.
The end of the helicopter tour on the Pulatkhan plateau.
Duration of the tour: 3 hours
Attention: On the day of departure, the established flight route is not subject to change.
Weather conditions:
In case of non-flying weather the day before the flight and the impossibility of rescheduling the tour to another day, 100% of the tour price will be refunded.
In case of a sudden change of weather during the flight or stay on the Pulatkhan plateau, the helicopter pilot decides on an urgent return to Tashkent. In this case, no compensation is provided. However, such a force majeure is extremely unlikely, since the Tashkent airport carefully monitors the weather forecast along the entire tour route.
Price includes:
Transportation throughout the tour (1-3 people by sedan-type car; 4-5 people by minivan);
Guide (on request).
Price doesn't include:
Additional services;
Additional waiting time on the Pulatkhan Plateau;
Meals.
Prices:
| | |
| --- | --- |
| Airbus Н-125 (1-4 pax) | 2400 US$ |
| Airbus Н-130 (1-5 pax) | 2800 US$ |