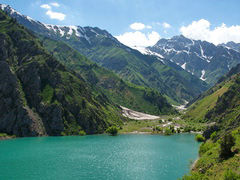 Lake Urungach is an extraordinary natural attraction of the Tashkent region, which is a very long drive away, about 4 hours by car. But our one-day helicopter tour to Lake Urungach allows you to get to this pearl of the Tien Shan in just 40 minutes! And at the same time, the entire flight will be accompanied by magnificent views of the surrounding mountains and the huge Charvak reservoir.

Arriving at the place, you will disembark right at the shore of Lake Upper Urungach. You will have the opportunity to walk around the neighborhood and take a lot of photos for memory. A helicopter tour to Urungach guarantees you the most picturesque flight and a sea of impressions.
Attention: the tour uses Airbus H-125 helicopters (capacity 4 passengers) or Airbus H-130 (capacity 5 passengers)
Tour program:
Tashkent – Lake Upper Urungach – Tashkent
Meeting with the driver at your hotel in Tashkent. Transfer to the local airport (30 minutes). Departure to Lake Urungach. The flight lasts 40 minutes.
First you will see Tashkent from the height, the surrounding fields, the Chirchik River and small villages. Then, moving along the Chirchik River winding below, you will reach the Charvak reservoir, surrounded by hills and rocky mountains. After Charvak, the path will go along the long gorge of the Pskem River, and at the end you will overcome a small rocky ridge, behind which Urungach hides.
The water of this lake is characterized by a rich blue-green color, similar to jade. By the way, the name Urungach translates as "light jade". After landing, you will have enough time to walk along the lake, and in the summer months you can even swim there!
After the walk, boarding a helicopter and flying back to Tashkent. Our driver will meet you at the airport and take you to the hotel.
The end of the helicopter tour to Lake Urungach.
Duration of the tour: 3 hours
Attention: On the day of departure, the established flight route is not subject to change.
Weather conditions:
In case of non-flying weather the day before the flight and the impossibility of rescheduling the tour to another day, 100% of the tour price is refunded.
In case of a sudden change of weather during the flight or stay on Lake Urungach, the helicopter pilot decides on an urgent return to Tashkent. In this case, no compensation is provided. However, such a force majeure is extremely unlikely, since the Tashkent airport carefully monitors the weather forecast along the entire tour route.
Price includes:
Transportation throughout the tour (1-3 people by sedan-type car; 4-5 people by minivan)
Guide (on request)
Price doesn't include:
Additional services
Additional waiting time for Lake Urungach
Meals
Prices:
| | |
| --- | --- |
| Airbus Н-125 (1-4 pax) | 2760 US$ |
| Airbus Н-130 (1-5 pax) | 3240 US$ |