Ararat Landmarks, Armenia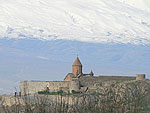 Khor Virap Monastery
Every Armenian has heard above this unique architectural monument, which nowadays has become one of the main attractions of Ararat. This fortified monastery is the place of pilgrimage and one of the most worshipped ones in Armenia and the holy site for the Armenian Apostolic Church. Read more...
Khosrov Reserve
Located in the eastern part of the marz is Khosrov reserve which was created for hunting and entertainment of Armenian aristocracy. Read more...
Ararat
In fact, the most legendary mountain in the world and a major sight of Ararat area – the holy Mount Ararat is located on the territory of Turkey now. Since it is in the western part of Armenia it was left within Ottoman state – only the eastern Armenia was annexed to Russian Empire in the early 20 th century. Read more...
Dvin
In 332-338 BC tsar (king) Khosrov the Short established Dvin, the ancient capital of Armenia , at the southern spurs of the Gegam Ridge. In ancient times Dvin stood on the crossroads of the caravan roads from the West to the East and from the East to the West. The most developed there were trade and handicrafts. The city was the capital from the 4th to the 13th centuries. Read more...