Armenia Tourism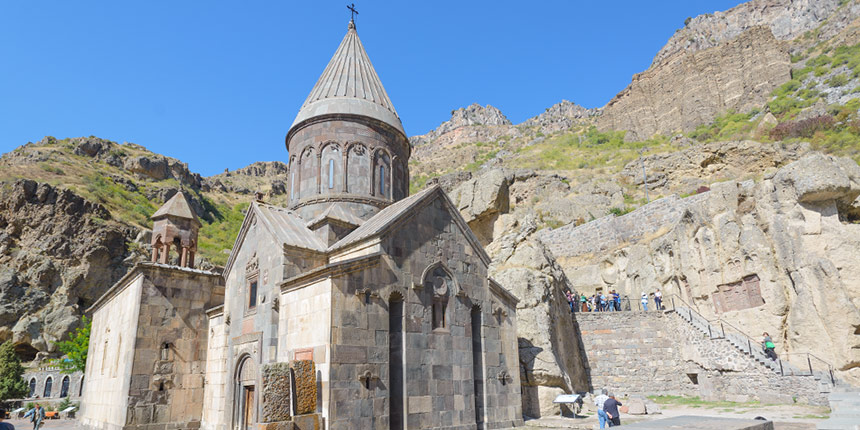 Small mountainous country Armenia holds only the 138th place in the world with its territory. Moreover, its entire territory (more than 90%) is situated on the height of 1000m above the sea level. With all that, it would be hard to find the second such country that would be rich for its ancient churches, monasteries and holy places as Armenia, the first country to accept Christianity as an official religion in 301. Armenia is a tourism paradise.
The capital Yerevan is full of impressions and sights, the city that everybody should pay a visit to. There are two churches not far from Yerevan – Etchmiadzin and Zvartnots built 1,5 millennia ago. Churches are considered as one of the oldest Christian monuments of Armenia and included in the UNESCO World Heritage List.
Armenia Tourism Packages
Armenia tourism packages are the selection of suggested tour itineraries that were put together to help you to plan your trip. Armenia is a tourist friendly and safe country. You can travel independently on your own by doing your homework using travel books, information available on the internet and using our suggested tour programs on our website. You can also request Advantour to put together your Armenia tourism package to save time and have an optimal itinerary to fit your requirements. We will utilize our local knowledge and experience to prepare the tailor-made private tour itinerary that will fit your schedule and interests. Our itineraries take into account feedbacks we get from our past travelers and latest developments in tourism. You can also signup to one of our escorted small group tours that have guaranteed departure dates throughout the year. These tours are very popular, allow to save money by sharing costs with other group members.
Armenia tourism opportunities offer all palettes of cultural and historical discoveries. For instance, the temple of Garni. This is amazing, but it is a fact that the temple was built in the 1st century on the funds provided by a sadly known Roman Emperor Nero. The temple of Garni, adorned with columns, looks like apiece of Ancient Greece in Transcaucasia.
Even in this small mountainous country, there are places where they have not only uniqueness in the architecture, but also an imitable local dialect. It is all about Western Armenia, where you will find Gyumri, the second largest Armenian city, and Aruch, the ancient capital of Armenia.
Armenian cuisine is wonderful and varied, with only kharavts and shashliks numbering more than 10 kinds. It is to remind that traditional Armenian thin bread "lavash" has been included in UNESCO Non-tangible Heritage List.
The most popular tours in Armenia are tours to mountain lakes among which is beloved Lake Sevan with many ancient temples on its shores. Also, there is the largest cemetery with ancient "khachkaras" ("crest-rocks") on the shores of Sevan near the village of Noraduz. The Armenian history is inscribed on the stone khachkaras of Noraduz. Tours to hot mineral springs in Djermuk are popular too, followed by a visit to a wine factory in Areni with wine tasting part.
Armenia tourism growth has an exponential pattern: Yerevan and little cozy resort cities of Dilijan, Djermuk and Tsakhkadzor are improving tourist infrastructure.
You can travel to Armenia any time of the year regardless of weather: it has got mountain ski resorts and beautiful beaches, wonderful gastronomical tours and festivities. You will remember the melodic sounds of duduk and grand view of the biblical Mount Ararat forever.