Armenia Tourism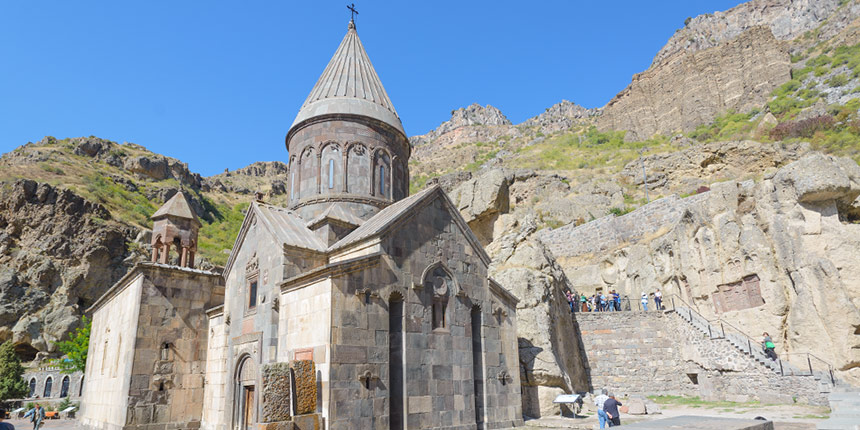 Geghard Monastery
Contents
Traveling to Armenia leaves you speechless, then turns you into a storyteller.
What is Armenia Famous for?
Pack your suitcase and come discover the Land of Noah, a little gem in the heart of the Caucasus that will make your jaw drop. Armenia is filled with stories of resilience and perseverance, with monasteries dating back over a millennium, with beautiful scenery and a sense of ancient spirituality and bravery.
Enjoy the diversity of Hayastan, as locals call their beloved country. Lose yourself in Yerevan, one of the oldest cities in the world, and pray at Etchmiadzin, the world's first Christian cathedral. Stand mesmerized by the deep blue hues of Lake Sevan and time travel in the historical cave village Khndzoresk. Listen to the 7th century Amberd Fortress tell its stories of valor and uncover our ancestors' secrets at the pagan temple of Garni. Put on wings and fly with Tatev's cable cars and leave your footprint next to the world's oldest shoe in Areni Caves. Find rest along the old Silk Road at Orbelian's Caravanserai and create your own stories of wild adventure atop mountain heights.
No matter which road you take, you will be followed and guided by Mountain Ararat's maternal gaze.
To stand at the conjunction of past and present, religion and mystical practice, and the bravery and devotion of a benevolent nation, is to stand in beautiful Armenia.
Although you probably don't speak Armenian, one of the oldest languages in the world, all you need for communicating with friendly, welcoming locals is a smile. Most Armenians will greet you with warm hospitality and open arms, filling your vacation with memories that will last a lifetime.
Is Armenia Safe for Tourists?
Safety is a number one priority when traveling, and luckily Armenia is a safe destination for every type of tourist. Crime rates are low, medical services are well developed and the transportation system is organized and safe. You can freely explore Yerevan any time of the day and enjoy the city's busy night life after dark. Each region has a well-established touristic infrastructure organized by the Armenia tourism board, and local police who stand ready to assist you 24/7.
The United States Department of State ranks Armenia as a Level 1 country on its Travel Advisory Page, the safest category in its system. According to the 2018 Crime Index by City, Yerevan is as safe as Luxembourg, Prague or Edinburgh. If you use common sense and follow regular precautions when traveling to Armenia, you are unlikely to face any safety issues.
Is Armenia Expensive?
For those wondering about the cost of turning your armchair travel into reality, rest assured that you can tour Armenia without burning a hole in your pocket. Traversing this diverse, vibrant nation can be cost-effective for even the most frugal of budget travelers, and all without compromising on delicious meals, comfortable accommodation with friendly hosts and excursions to memorable landmarks and attractions.
Armenia is worth visiting for budget travelers can expect to spend around 10 to 25 USD for accommodation in local hostels or guesthouses and from 10 to 30 USD per day for food, public transportation and sightseeing.
Instead of driving, try to explore as many places as possible by walking or hiking, which will not only save you money, but allow you to discover hidden gems and experience the local lifestyle as you interact with amiable, hospital residents. If your legs grow weary, public transport, especially the buses and minibuses, are cheap, safe and can take you to almost any destination.
You will not need to pay any entrance fees to visit the many centuries-old churches that have come to define the Armenian landscape, each of which provides a glimpse into local architecture, history and traditions. Additionally, many museums provide detailed brochures and descriptions in English, saving you from the necessity of hiring a guide.
By purchasing fresh food and produce at small bakeries and local markets, you'll spend less money and have the chance to try your hand at cooking local dishes. Keep in mind that you will need cash to buy foodstuffs at smaller cafes and bakeries or to bargain for authentic souvenirs directly from local artisans, most of whom offer high-quality goods at very affordable prices.
While Armenia is not yet a popular destination for backpackers, its dramatic mountain landscapes and rugged valleys are an ideal backdrop for trekking, biking, camping and off-road adventures. Camping in the wild is free, while official campsites charge anywhere from 8 USD or more for two people and a tent per night. Cycling to the nearest getaway or hiking over forest glades and mountain pathways is free entertainment at its best, and most wanderlust adventurers who set foot in this land wonder why they didn't discover Armenia sooner.
Types of Armenia Tourism
Every region, city and village in Armenia offers unusual historical attractions that beg exploration, flavourful dishes waiting to be enjoyed and warm hospitality that will put you at ease.
With seemingly endless opportunities and countless destinations on the map, it can be hard to know where to start. To help you think through your Caucasus adventure, we invite you to learn about the various types of Armenia tourism below. You can then decide where your curiosities lie, use those interests as a springboard for selecting your tour, and let the memorable adventures begin!
Cultural Tourism
If you're fascinated by new cultures, lifestyles and traditions, cultural tours in bewitching Armenia are bound to exceed your expectations. Be it the mystical culture surrounding Urartu, architectural monuments unique to Armenia, the sweet sounds of the duduk or the flavors of Armenian cognac, wonders await you on each day of your vacation.
We advise you to start your adventure in capital city Yerevan, an ancient city with endless charm and friendly locals which comprise a third of the country's entire population. Do not miss Yerevan Cascade, a giant staircase offering a bird's eye view of the city, a panorama of Mount Ararat and unique, contemporary artwork. As you move through the city, you'll discover its layers one by one: Soviet past, a Christian heritage, remnants of Islamic history and modern neighbourhoods filled with restaurants, cafes, shopping malls and colourful nightlife. Yerevan's rich cultural life is heard in local theaters and concert halls, felt in traditional carpet weaving classes, savored in world famous Armenian cognac, sensed in the rich aromas of delicious local cuisine and seen in numerous museums dedicated to the hardships, bravery and victories of this fearless nation.
Not far from Yerevan stands the two-thousand-year-old temple of Garni, one of the last remaining pagan temples in the region. From this pagan past, step into Armenia's Christian heritage by visiting Etchmiadzin, the first Christian temple, before witnessing "Dance of Eagles" at Haghartsin Monastery.
Acquaint yourself with the beautiful and ancient Armenian alphabet at Oshakan or visit one of the most sacred monasteries in Armenia via the longest reversible tramway in the world in Tatev. If you're feeling adventurous, the caves of Khndzoresk and Areni await exploration, while Armenia's quiet mountain paths, pristine rivers, lush forests and untouched landscapes dotted with forts and monasteries will never cease to take your breath away. Read more...
Gastronomic Tourism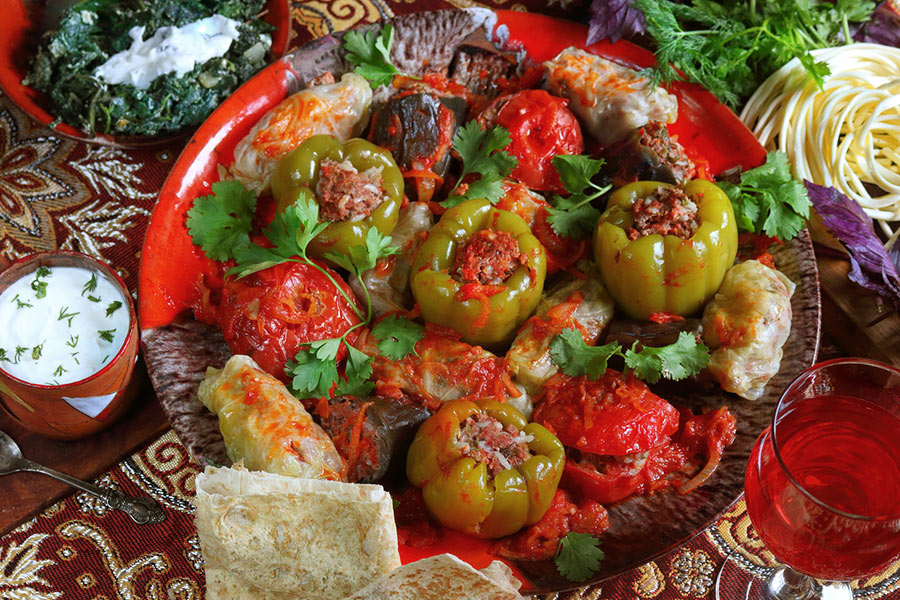 Combine the finest aspects of Eastern European and Middle Eastern cuisine and you'll discover Armenian food, a tasty blend of influences from across the region. Armenian food is rich in vegetables, meat, fish and dairy products. Lavash (famous local flatbread), lamb, eggplant and fresh herbs are the primary components of many local dishes.
Try the famous khurjin, a traditional mountainous dish. According to local saying, the wives of shepherds used to make khurjin for their husbands before they journeyed into the mountains for weeks and months at a time. This convenient dish is a simple meat and vegetable combination that is then wrapped in a big parcel of lavash.
Meat lovers should not miss ordering Armenia's famous dolma, grape leaves stuffed with rice and meat and served with a creamy garlic garnish; khorovats, a delicious grilled lamb; and basturma, dried and seasoned beef prepared with spices.
Vegetarians will enjoy zhengyalov hats, a flat bread stuffed with butter and several types of greens and herbs, as well as eetch, cooked bulgur with various vegetables and spices.
One of the most traditional dishes in Armenia is ghapama, a stuffed pumpkin filled with rice, raisins and dried fruit which is often served on special occasions. If you love sweets, the gata sweet bread will leave you speechless, as will sujuk, a traditional local candy of walnuts wrapped with a fruity paste.
For an authentic bazaar experience, Yerevan's famous GUM Market is bursting with nuts, dried fruits, vegetables, various local cheeses and overwhelming hospitality.
Armenians believe that Noah planted the first grapevine in Armenian territory, and local wines produced according to ancient traditions can still be sampled in Areni, a beautiful region filled with sweet grapes and fruity aromas. And of course, Armenia tourism would not be complete without sampling delicious Armenian Cognac, the country's chief beverage whose rich taste will add a memorable twist to your mind-blowing trip around this likeable country. Read more...
Adventure and Nature Tourism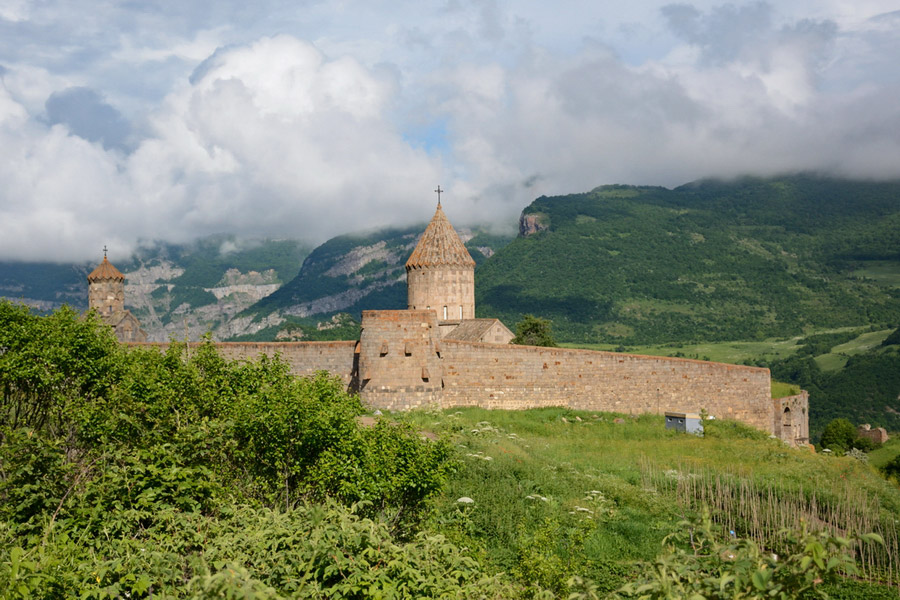 Armenia is loaded with nooks and crannies awaiting exploration and memories eager to be created across its stunning landscapes. This mountainous land will boost your adrenaline levels and send you soaring with its varied geography and diverse climatic conditions that make almost every form of outdoor exploration possible. Whether trekking through remote and scenic expanses, catching a bird's-eye view while paragliding, camping in the lonely wilderness, rock climbing, windsurfing or riding a jet-ski, nature and adventure tourism in Armenia offers a bit of everything.
Gear up for a daring bike ride along stunning mountain roads, witness the bravery of the Armenian people by climbing the 7th century Amberd Fortress, follow an irresistible hiking path from Tatev Monastery past Khndzoresk Caves, explore Dilijan National Park or ski at Tsaghkadzor in winter.
At 4090 meters, the north summit of Mount Aragats is the highest point in the country and a popular destination for people who want to challenge their strength and relish the taste of freedom. For those looking for something a little less extreme, the southern peak of Mount Aragats (3879 meters) will prove the ideal getaway.
If you're an extreme sports enthusiast, why not combine sightseeing and rock climbing? The gorge of Noravank Monastery, located 80 kilometers southeast of Yerevan, offers limestone cliffs and picturesque nature engulfed in the gentle roar of the Amaghu River. Alternatively, the Gorge of Garni, just 30 kilometers from Yerevan, is framed by rocky walls and landscapes so unusual you may begin to wonder if you've crawled into another world.
Paragliding has remained one of the most popular sports in Armenia since its introduction to the country in 1996. And little wonder, for it combines the unforgettable thrill of floating through the air with the diversity of Armenia's nature seen in the views of Mount Hatis, the beautiful village Covagyugh or the mystery of Mount Armagan.
For those looking for a calmer experience, consider a nature hike through one of Armenia's national parks or a calming afternoon at the shores of Parz Lake. Many private companies can also organize horseback riding adventures for those who wish to combine their love of animals with quiet time in nature.
Adventurous travel in beautiful Armenia is your doorway to a new and fascinating world. Read more...
Sustainable and Eco Tourism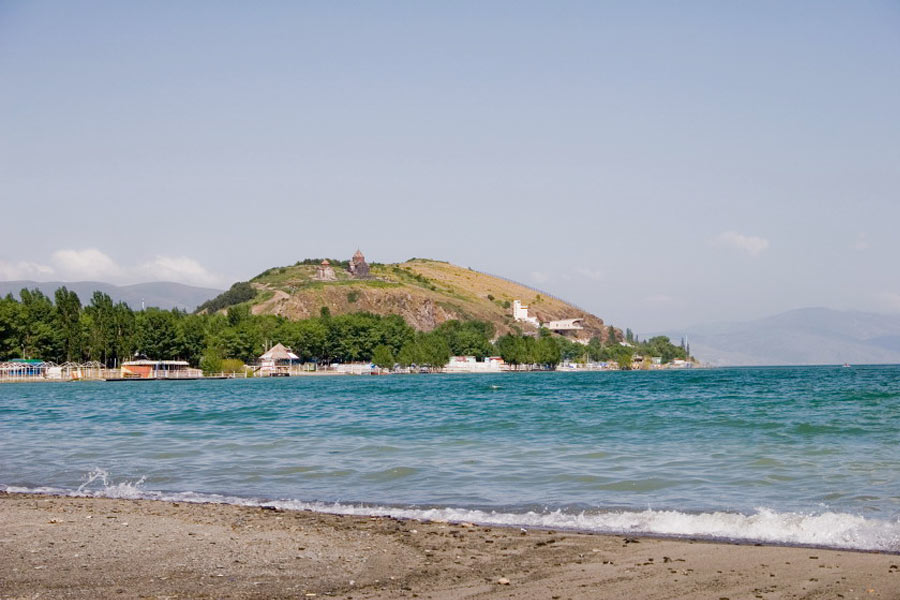 Sustainable and Eco Tourism, far more than just traveling around the globe, is about ensuring that your visit leaves a positive impact on the local community. Located in the heart of Eurasia between the Black and Caspian Seas, Armenia features over 3,800 plants and more than 17,500 animal species that add to its allure as a prime destination for people who wish to travel responsibly.
Getik Valley offers rural tourism, cooking courses, masterclasses in the production of local cheeses and yogurt, carpet-weaving lessons and a superb fishing environment amidst stunning landscapes.
Unplug and connect to nature while hiking around the enchanting village Urtsadzor, whose clear spring waters and fresh mountain air will refresh your body and soul. The village of Noragyukh, with its unique flora and fauna, is another popular destination for eco-tourism. Animal lovers will appreciate the bezoar goats in Shatin village and bird watching in the beautiful Lori Region.
One of the best places for sustainable tourism in Armenia is Khosrov State Reserve, offering picturesque hiking paths surrounded by waterfalls, ruins of remote monasteries and beautiful natural monuments.
Dilijan National Park is another exotic destination that's sure to capture your heart with its dense forest landscapes, picturesque Parz Lake, medicinal mineral springs, isolated monasteries and seemingly endless hiking trails.
While the options for sustainable tourism in Armenia are many, each one blends remarkable nature with respectful learning of local culture to create heartwarming memories for you and a beneficial experience for local residents. Read more...
Pilgrimage in Armenia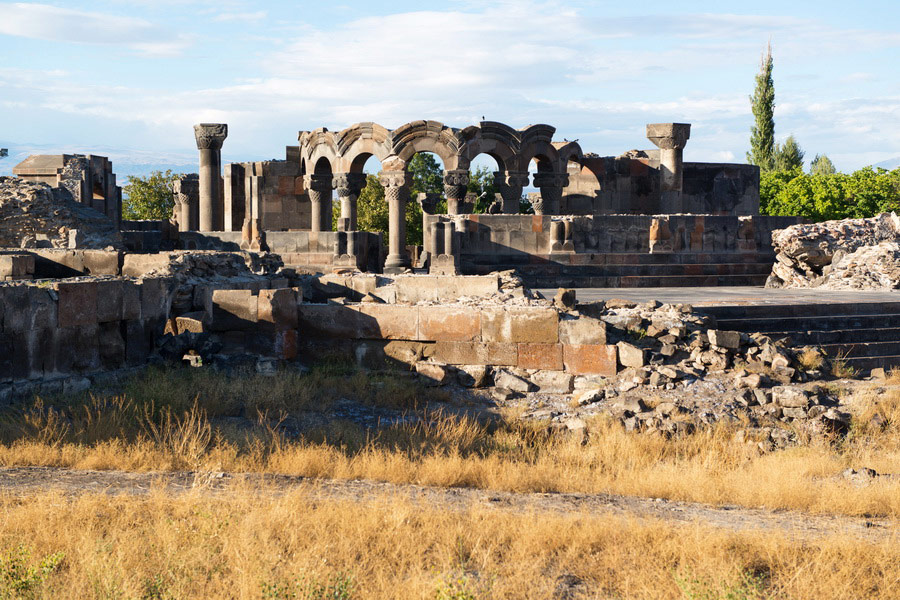 In 301 AD, Armenia became the very first country in the world to adopt Christianity as its state religion. Faith has shaped its culture, lifestyle and traditions down through the centuries, and religious pilgrims the world over travel to the mysterious Land of Noah in a quest for enlightenment, understanding and peace.
And just what is Armenian religion today? In Armenia, a certain sense of beautiful mystery seems to gather and grow so that no matter the length of your stay in country, you cannot help but be immersed in the deep spirituality, loyalty and beauty of this dedicated nation. The history of Armenia is a blend of hardships, invasions and devastating natural disasters and yet through it all, Armenians managed to preserve their resilience, bravery and faith.
Start your pilgrimage in Armenia by visiting the UNESCO World Heritage Site of Etchmiadzin, the first Christian Cathedral in the world that was completed in 303 AD. Learn about a past filled with hardships and courage at the ruins of Zvartnots, or pray for the peace and unity of Armenia at Khor Virap Cathedral, where, according to legend, St. Gregory the Illuminator was held in the basement as a prisoner for 13 years for preaching Christianity.
Travel to Armenia's pre-Christian past at the pagan temple of Garni, hear the sacred chants at Geghard Monastery or trace the religious steps of Armenians imprinted in the numerous khachkar cross-stones.
Re-establish the original harmony which once existed between man and universe at beautiful Lake Sevan and feel the wonder of limitless faith at Tatev Monastery, blanketed in mesmerizing nature and tranquility. Learn about iconic Armenian medieval architecture at the Haghartsin and Goshavank Monasteries, which served as spiritual and cultural centers of the country for centuries.
Come see with your own eyes where the events of religious history unfolded, for within its glorious and fearsome face, you may find your true self.
Regardless of where in country your travels may take you, your trip will be a blend of unique historic and religious sites, alluring nature, warm hospitality, kind smiles, intangible pleasures and eternal spirituality. Be prepared to take glorious photos, treasure the moment and savor the adventure of a lifetime! Read more...