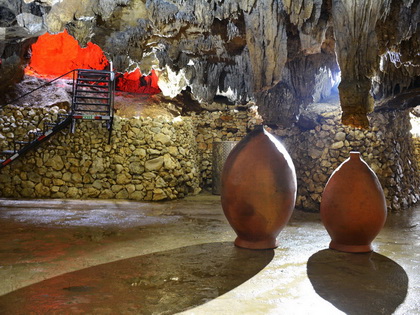 A one-day tour from Kutaisi to Sataplia, Tetra, and Prometheus caves is a pleasant and colorful journey into the fabulous world of stalactites and stalagmites. In just one day, you will see three masterpieces of Georgian geology, created by nature over thousands or even millions of years! During the tour, you can also enjoy a walk through the ancient forest and participate in a small wine tasting. The caves are equipped with paths, and stairs and are well-lit, which means that the excursion will be easy and pleasant.
Tour itinerary:
Today we will explore three most important caves of Imereti region in one day. Our journey will start with Sataplia Reserve and cave. This place has preserved a prehistoric nature with wooden relics, labyrinths of karst caves and fossilized tracks of dinosaurs that lived there in the Mesozoic era, 160 mln years ago. We will have a walk in the forest, enjoy the panoramic views from observation platform, and visit karst cave. Our next stop is Tetra Cave which took its name from Georgian word for "white" as its interior is white due to the chalk limestone. Lit by color lights, the hanging karst formations create the spirit of underground magic. The cave also offers tasting of locally produced wines.
Our final stop for today is Prometheus cave. Six spectacular halls full of stalactites, stalagmites, and underground waterfalls, lakes, and rivers await you for a 45-minute long walk in the mysterious atmosphere of the cave. We will return to Kutaisi and finish our One-Day Tour to Caves of Imereti
*We are happy to offer you dinner in Kutaisi home restaurant where you can sample traditional Imereti cuisine accompanied with local wine. Due to limited table availability, we recommend booking the dinner in advance.
Price includes:
All transfers as per itinerary;
English speaking guide;
Mineral water;
Entrance fees to the museums, mausoleums and other sights.