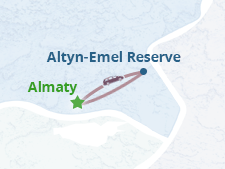 Take a weekend trip to the Altyn-Emel National Nature Park located in the Ili River Valley. You will see the unique natural beauty of Kazakhstan – singing sand.
Departure from Almaty at 07:00. Transfer to the Tamgaly Tas located on the Ili River. Tamgaly Tas is a unique monument, where you will see rock-carved images of Buddha's and writings in Tibetan, Kalmyk and other languages. Discover interesting facts and legends about
Tamgaly Tas
and enjoy the beautiful views.
Continue to the village of Baschi. After lunch, excursion in
Altyn-Emel National Park
. Drive to the mountains of Aktau and Katutau.
Katutau Mountains (Harsh Mountains) are ancient ruined mountains with volcanic outputs. Water, time and wind carved intricate shapes in the rock. Sedimentary rock of the bottom of the ancient Tethys Ocean is preserved there. Aktau Mountains (White Mountains) are one of the largest paleontological fields in the world. The chalky hills consist of sandstone and red clay, layered with yellow and pink cornelian, jasper and white quartz.
Breakfast at 07:00. Drive to
Singing Dunes
located in one of the corners of the Altyn-Emel National Park, a few kilometers from the Ili river, between the mountains of Big and Small Kalkan. This sandy hill has a height of 120 meters and a length of about 3 km. It consists of very fine pure sand, which starts to "sing" in windy weather and its sound reminds the organ music. Before a sandy storm the dune sounds like a drum. From the top of the Dune you can observe the grand panorama of the surroundings. In the south - thin strip of the Ili River is visible as well as purple mountains of Sogety and Boguty, looking out from the white peaks of the Ketmen ridge. On the west the horizon is obstructed by the steep slope of the Big Kalkan, and the Small Kalkan – from the east. In the north - violet-blue ridge of Djungarian Alatau mountains, Chulak mountain, Matai and Altyn-Emel are visible. If the weather is dry and windy, the sand-dune will "sing" you its song, which could be heard as far as several kilometers. Late in the afternoon return to Almaty. Transfer to the hotel. End of the tour.
Transport throughout the tour;
Accommodation based on double/twin room sharing, breakfasts included;
Sightseeing tour program with local English speaking guide;
Full board;
Environmental and entrance fees to sights as per itinerary;
Bottled water 1.5l per person a day.
Accommodation in Almaty;
Transfers and transportation in Almaty;
Consular fees for Kazakhstan tourist visa;
Personal travel insurance;
Tips are not included, but would be appreciated;
Alcohol and soft drinks.
Accommodation:
Altyn-Emel - 1 night
Altyn-Emel