Ili River, Kazakhstan
Ili River - the main tourist route of Zhetysu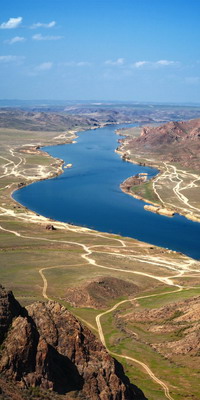 At 1.439 km, the Ili is the longest river in Zhetisy. Its source is in Almaty region; on ways back from China it forms the Kapchagai reservoir, eventually plowing into Balkhash Lake.
Some call Kapchagai a sea. In the warm weather it is one of the loveliest places for city-dwellers for the rest. It is 22 km at its widest point and 45 m deep and covers an area of 1,847 sq. km. A
long its shores are health spas, guest-houses, beaches and fishing boats.
There is a small aquapark in the town. Kapchagai's waters teem with pike perch, bream, wild carp, chub and sheat-fish. Just a short journey from Kapchagai, on the bank of the Ili, is a place that will transport you far back in time.
For centuries, an image of Budda has gazed into the sky from an enormous rock on the right bank. This is Tamgaly Tas (Written stones).
The sun-blackened cliff-faces have preserved many petroglyphs (rock paintings), images of mysterious deities and late Buddhist inscriptions whose meaning has yet to be unraveled.
There are many different drawings dated back to the 12th century. Nearby is another rock with writings in an ancient Turkic runic script dating back to the 8-9th centuries.