Przhewalsky Memorial Museum
Nikolay Przewalsky - famous schientist and traveller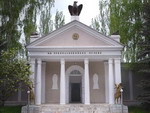 Nikolay Mikhailovich Przhevalsky is one of the first Russian Scientist-Geographer who started studying in details the geography, flora and fauna of the Central Asian countries. Beginning from 1870, he arranged 4 large expeditions to Mongolia, China and the Tibet.
During his expeditions he revealed the exact directions of the mountain ranges and borders of the Tibet Mountains. He described the nature, relief, climate, flora and fauna in the territories under his study and discovered over 200 plant species. Przhevalsky also collected an enormous zoological collection which comprised several thousand of species of plant, animals, birds, fishes and insects.
For the outstanding achievements and contribution to the exploration of Central Asia Przhevalsky was elected Active Member of the Russian Geographic Society and also a Member of the Russian Academy of Science. In the year of 1888, he died from typhoid fever on the eve of his fifth expedition to Central Asia; he was buried on the Issyk-Kul lakeside not far from the city of Karakol.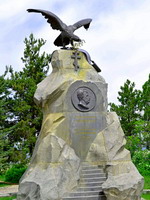 The Memorial Museum of N. M. Przhevalsky was opened on 29 April 1957 in Karakol. From the first days of its existence the main task of its staff was the collection of materials form the Museum Fund. The work on collection of materials on N.M. Przhevalsky's life and activity was especially intensive.
For the first three years, the Museum Fund comprised already 386 exhibits. It was the local historical Museum named after N. M. Przhevalsky, which in 1957, initiated the Fund formation and handed over 8 works of N. M. Przhevalsky published in the period from 1883 to 1947, as well as 30 photocopies and photos. The materials also were received from the Geographic Society of the USSR.
To day there are personal things, documents photos and articles of Przhevalsky kept there. Not far from the Museum there is the traveler's tomb and monument.