Kyrgyz State Historical Museum, Bishkek
The History Museum is closed for renovation and no announcements have yet been made on reopening date.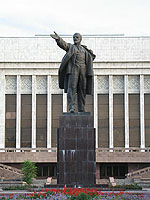 The State History Museum, formerly known as the Lenin Museum, is located on Ala-Too Square, and is open from Tuesday to Saturday from 10:00 until 15:00.
Visitors can view exhibits such as samples of rock paintings, household items from the Bronze Age, jewelry from nomads dating from the 1st to the 5th century CE, a collection of Turkic kurgan stelae, stones from Talas with runic inscriptions, as well as a great number of ancient coins.
The museum has an extensive collection of ethnographic objects from the late 19th and early 20th centuries, including felt, leather, wool, woodworks, knitting, embroidery, clothing, jewelry, and horse harnesses and gear of artistic merit.