Kyrgyzstan Museums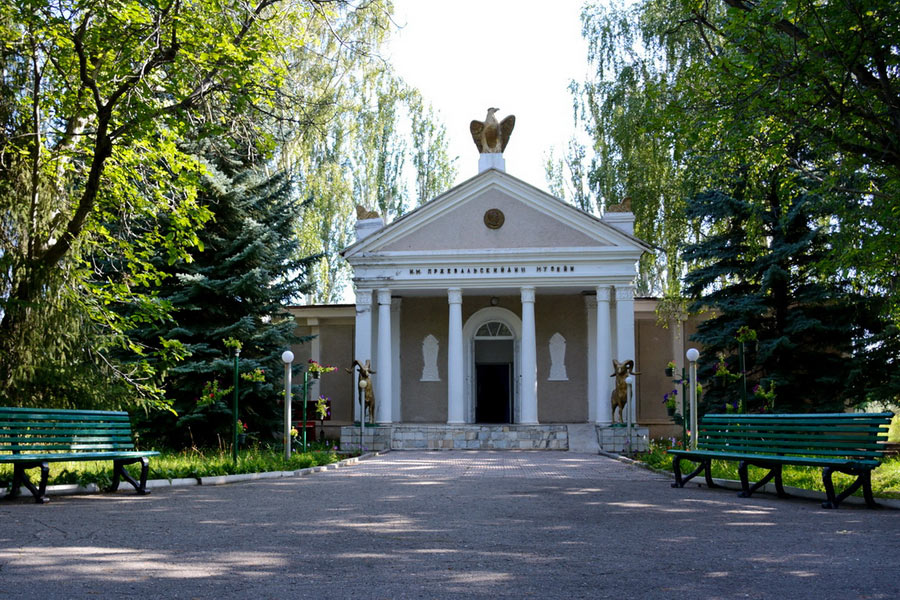 Museums in Kyrgyzstan may not be comparable to the Louvre, but they showcase essential moments from culture and history; they are even the place where the average person can get closest to a snow leopard (a stuffed one, albeit). Some museums feature historical materials, like the State Historical Museum or the Frunze House Museum, some are centered on ancient history and archaeology, like the museums at Burana Tower and Sulayman-Too, and some highlight local artisans (even ones that lived thousands of years ago), like the Museum of Fine Arts and the petroglyphs at Saimaluu-Tash.
The first museums in Kyrgyzstan were public collections in libraries. A collection was opened to the public in the Uyezdniye Library in Tokmok in the 1870s, and other was opened in the People's Library in Prezhevalsk (now Karakol) in 1902 and in Osh in 1917.
The first proper museum was the Frunze House Museum, built around the birthplace of Red Army General Mikhail Frunze in 1925. The Historical Museum was founded in 1927, followed by the Museum of Fine Arts in 1935. By 1981 there were 13 museums, a number that grew to 36 state-run museums by the 21st century, plus several private ones.
Those interested in archaeology can visit the museum at Burana Tower, which features artifacts from the region, or the Historical and Archaeological Museum in Osh, carved into the side of Sulayman-Too. Several house museums detail the lives of Kyrgyzstan's most influential figures, including the Przhevalski Museum in Karakol and the Aytiev Studio Museum in Bishkek.
Many museums in Kyrgyzstan are open air, with exhibits displayed out in the open or in parks. Not everyone is able to travel all the way to Saimaluu-Tash, where over 10,000 petroglyphs are displayed, but collections at Burana Tower and in Cholpon-Ata are easy to reach.
Kyrgyzstan Popular Museums:
History Museums
State Historical Museum of the Republic of Kyrgyzstan (Bishkek)
Museum of the History of the Nookat District (Nookat)
Alay District Historical Museum named after Kurmanjan-Datka (Gulcha)
Museum of History (Kyzyl-Kiya)
Suzak District Historical Museum
Tokmok Local History Museum
Karakol Local History Museum
Jalal-Abad Local History Museum
Kochkor Local History Museum
Naryn Regional Local History Museum
Issyk-Kul State Historical and Cultural Open-Air Museum
Osh Historical and Cultural Museum
Memorial Museums
House Museum of M.V. Frunze
Museum and Studio of G. Aytiev
Museum-Apartment of A. Maldybaev
House Museum of A.Tokombaev
House Museum of S. A. Chuikov
House Museum of O. M. Manuylova
Museum and Studio of S. Chokmorov
N. Przhevalski Memorial Museum
House Museum of A. Osmonov
House Museum of Z. Kaynazarova
Memorial Museum of D. Shopokov
Ata-Beyit Memorial Museum
Literary Museums
Toktogul Literary Museum
State Museum of Literature and Art of T. Satylganov (Toktogul District)
Ch. Aitmatov Museum (Talas Province)
Specialized Museums
Zoological Museum at the Faculty of Biology at Kyrgyz State University
Archaeological Museum at Kyrgyz-Slavic University
Museum of the National Bank in Bishkek
Geological Museum at the State Agency for Geology
Theater Museum at the State Opera and Ballet Theatre
Theater Museum at the State Drama Theater
Theatre Museum at the Kyrgyz National Philharmonic
Private Museum of Art and Inventions
Private Space Museum
Open Air Museum in Oak Park