Kyrgyzstan Museums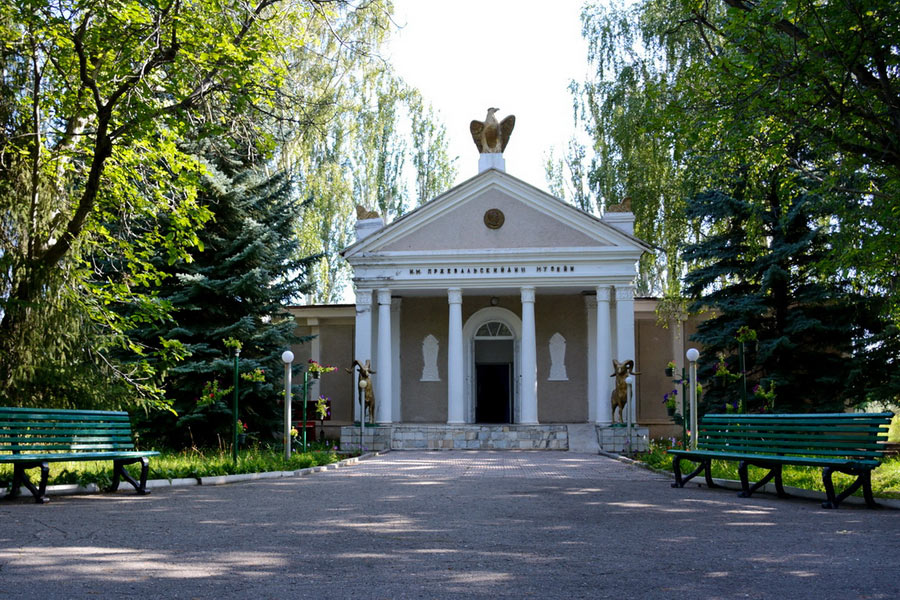 The Kyrgyz Republic may be one of the places left in the world where the famed and endangered Snow Leopard can still be found roaming wild – but it is only on very rare occasions when one is actually spotted. It is possible, however, to come face to face with one in several of Kyrgyzstan's museums, albeit a stuffed specimen.
Museums are a fairly recent innovation in Kyrgyzstan and most tend to be relatively small – far from the general impression of cavernous halls filled with dry and dusty specimens inspired by visits to the British Museum, the Louvre, Smithsonian or some of the world's other major museums. Although many operate on limited budgets, and most of the sign are in either Russian or Kyrgyz, all of Kyrgyzstan museums have their highlights.
Museums are concerned with much more than just simple displays – this is just one aspect of their work. They collect, document and preserve collections of artifacts and specimens of historical, cultural, artistic and scientific importance, as well as making them available to the public – for example, (but not only), in displays.
The first public collection in Kyrgyzstan was the Uyezdniye library in Tokmak as early as 1870. Other libraries were to follow, for example the People's Library in Prezhervalsk, (now Karakol), in 1902 and in Osh in 1917.
The first museum as such to be established in the country was the Frunze Museum in Bishkek – which was dedicated to the memory of Mikhail Frunze, the Red Army General who led the conquest of Central Asia for the Bolsheviks in the Civil War, and which opened its doors in 1925.
It was followed by the Historical Museum, which opened in 1927 and the Museum of Fine Arts in 1934.
Kyrgyzstan may not be able to match Finland in the the number of museums per head of population, but the number of such institutions is growing. In 1981 there were only thirteen operating in the republic – but by start of the new millennium this had risen to thirty-six state run museums and a number of private ones.
Most visitors to Bishkek pay a visit to the Historical Museum, to see the massive monumental art and examples of Soviet iconography. A visit to Karakol is incomplete without calling into the Prezhevalsk Museum and recalling the journeys of this Russian explorer which yielded so much information about the Asian continent. In Osh, the State Museum in the caves of the Suleyman Too mountain, in the heart of the city, offers one of the most unusual settings for a museum.
One of the features of many Kyrgyzstan museums is that they are al-fresco – "Open air" museums in which the exhibits are displayed in natural surroundings or parkland. Not every visitor to the republic is able to complete the journey to the remote "stone garden" of Saimaluu-Tash to see the ancient petroglyphs there, but the collections at Burana and Cholpon-Ata are much more accessible.
Kyrgyzstan Popular Museums:
History Museums
State Historical Museum of the Republic of Kyrgyzstan (Bishkek)
Museum of the History of Nookat District (Nookat)
Alay District Historical Museum named after Kurmanjan-Datka (Gulcha)
Museum of History (Kyzyl-Kiya)
Suzak District Historical Museum
Tokmok Local History Museum
Karakol Local History Museum
Jalal-Abad Local History Museum
Kochkor Local History Museum
Naryn Regional Local History Museum
Issyk-Kul State Historical and Cultural Open-Air Museum
Osh United Historical and Cultural Open-Air Museum
Memorial Museums
Memorial House Museum of M.V. Frunze
Memorial Museum-Studio of G. Aytiev
Museum-Apartment of A. Maldybaev
Memorial House-Museum of A.Tokombaev
Memorial House-Museum of S. A. Chuikov
Memorial House Museum of O. M. Manuylova
Museum-Studio of S. Chokmorov
N. Prjevalski's Memorial Museum
House Museum of A. Osmonov
House Museum of Z. Kaynazarova
Memorial Museum of D. Shopokov
Ata-Beyit Memorial Museum
Literary Museums
Toktogul Literary Museum
State Museum of Literature and Art of T. Satylganov (Toktogul district)
Ch. Aitmatov Museum (Talas region)
Specialized Museums
Zoological Museum at the Faculty of Biology of the Kyrgyz State University
Archaeological Museum at the Kyrgyz-Slavic University
Museum of the National Bank in Bishkek
Geological Museum at the State Agency for Geology
Theater Museum at the State Opera and Ballet Theatre
Theater Museum at the State Drama Theater
Theatre Museum at the Kyrgyz National Philharmonic
Private Museum of art and Inventions
Private Space Museum