Russian Customs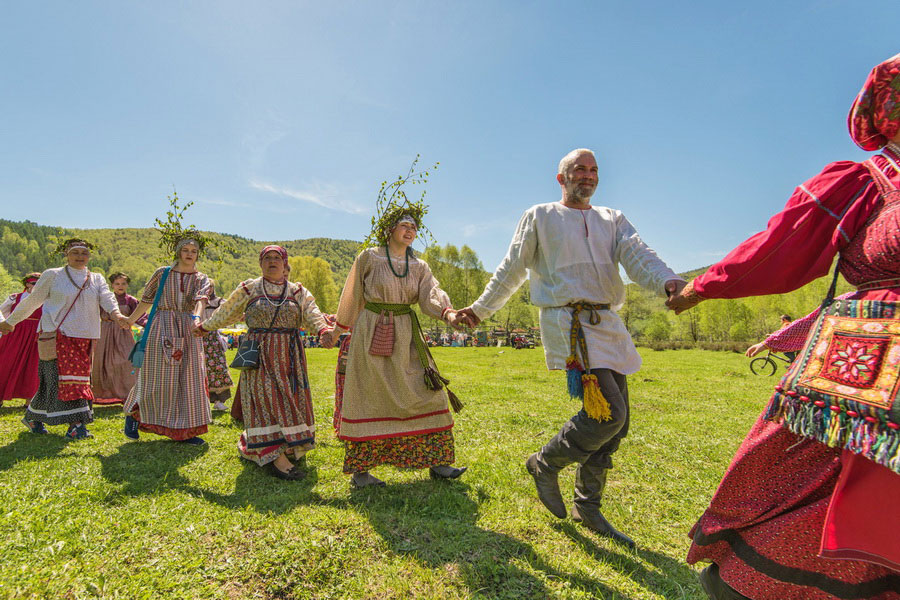 Traditional Russian customs are vast and varied, for Russia itself is a huge and multinational land. Nevertheless, a number of Russian customs, specifically those which are observed during holidays and life events, remain popular throughout the country. Many of these observances have arrived to the 21st century as a unique symbiosis of ancient practices and 20th-century Soviet traditions, reflections of local values and history which continue to evolve with the times.
Traditional Holiday Customs
As a predominantly Orthodox nation, traditional holidays have often centered around the Christian faith, although even in these observances many pre-Christian pagan practices remain. For example, many holidays in Russia are accompanied by a special round dance called khorovod. This ancient, sacred dance originated as a pagan Slavic ritual that was performed in a circle in honor of the sun god Yarila. Today the playful dance remains a symbol of unity and a tribute to the ancient customs of the Russian people.
Russian New Year customs are replete with beloved traditions which are observed from one corner of the country to the other. During the New Year holiday season, which culminates on December 31, New Year trees can be seen everywhere, from shop windows and central plazas to city entrances and private homes. The holiday is a particularly special time for children, who eagerly anticipate the shimmering seasonal décor and special presents from Santa Claus, known locally as Ded Moroz. The public bathhouse, long regarded as a near-sacred place for Russian people, is central to local New Year customs. On December 31, everyone is expected to "wash off" all negativity from the outgoing year with a hot bath, which when done in a communal bathhouse also affords the chance to relax with friends and family.
Orthodox Christmas (January 7) is another Russian holiday replete with ancient customs. On Christmas Eve, young girls still gather for fortune-telling, which takes many different forms. Christmas caroling is another long-held Russian Christmas tradition which, although sometimes practiced in the cities, is especially popular in villages, where children perform festive songs in exchange for candies.
In keeping with traditional Russian beliefs and values, Easter is the main religious holiday. It is always celebrated on a Sunday, although preparations begin the Thursday prior with a thorough housecleaning on a day referred to as "Clean Thursday". Painted eggs are a traditional Russian food at Eastertime: in historic times, the eggs always had to be painted red as a symbol of the blood of Christ, but today they can be dyed with any color. Although special dyes can be found in many stores, some families make their own eco-friendly version using onion peels, beets, hibiscus tea and turmeric. Children love to "egg fight" by bumping two dyed eggs together, with the person whose egg cracks the first declared the loser.
Graduation and Wedding Customs
Graduation celebrations, much like Russia itself, have evolved with the times. Many students attend a special dance, a tradition with roots in the balls which were thrown for graduates in the time of Peter the Great. High school graduates usually wear a special ribbon and may be the recipients of small concerts, gifts and balloons. The annual Scarlet Sails Festival in Saint Petersburg became an end-of-school-year tradition in the 1960s and has only grown in popularity since that time.
Popular Russian wedding customs center around fun activities for the couple and their friends. It has long been customary for the bride and groom to gather separately with their circle of friends before the wedding day. Historically, the girls would pass the time with fortune-telling, weaving and singing while the men gathered in the groom's house to offer him advice for his future life. Today, the groom often holds a bachelor party and his fiancée a bridal shower. Many young people today also spend the evening before the wedding dancing at a local night club.
In past times, the bridegroom would lead the wedding procession while seated on a richly ornamented horse. Today, it is customary for the groom and his friends to form a special entourage by renting a fleet of luxury cars or by decorating their own vehicles.
The playful "Bride Price" ceremony likewise has historical roots which have transformed with time. The game typically takes place at the bride's house, where friends of the bride are expected to prepare a series of playful challenges for the bridegroom and his friends to complete. If the tasks are too difficult for the men, the bridegroom must pay a 'fine' of candies or small coins.
Soviet Holiday Customs
In addition to centuries-old customs, new Russian holidays which were established in 20th-century Soviet Russia continue to be observed across the land today. Defenders of the Fatherland Day, a.k.a Men's Day (February 23), and International Women's Day (March 8) are two such holidays which remain extremely popular in Russia. According to Russian custom, all men or women in your circle of acquaintances, including relatives, friends and colleagues, should be congratulated on their respective day.
Despite the passing of time, these and many other traditional Russian customs continue to play an important role in the preservation of local culture.