Ostankino Estate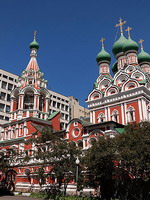 Ostankino Palace, located in the northern part of Moscow, is one of the great monuments of architecture of the 18th century, one of the tops of Russian estate culture. In 1620 Ostankino was granted to the boyar Cherkassky by the Tsar Mikhail Fyodorovich. The Cherkasskys had owned the estate until 1743. Under the Princes Cherkassky Ostankino was a rich prince's residence with a beautiful temple, a large manor house and an extensive garden. The manor was miraculously nice and well arranged. Afterwards, Ostankino was owned by Sheremetev. That was when the true blossoming of the estate began. The Duke Nikolai Petrovich Sheremetev was not only a rich patron and connoisseur of art. He became the true founder of the theater in Russia and built the famous Palace Theater, the architectural treasure of Russian classicism, in Ostankino.
The Palace Theater in Ostankino is the only in Russia and one of the few remaining in Europe theater buildings of the 18th century with a stage, hall, interior lobby, dressing rooms, machinery and equipment. With time it was added with pavilions and galleries.
Ostankino Palace was built from Siberian pine with exterior stucco and interior decorative finish. The facades are decorated with colonnades in antique style and plaster bas-reliefs depicting mythological themes with sculpted images of the heroes of ancient mythology.
The most remarkable part of the palace is the theater hall. The two-storey theater is built in the center of the palace and is surrounded by a system of reception rooms. The interiors were made using fabrics, gilding and carving, painting on paper. The interiors of the reception rooms retain the original decor and furnishings. The chandeliers, furniture and other items remain in their original places. The lights from crystal, bronze and gilded carved wood make the halls especially exquisite.
The theater has left a few props, musical notations with markings of serf musicians, a collection of musical instruments. The palace - gilt furniture of the 18th – early 19th centuries, about two hundred floor lamps, sconces, candlesticks, candelabras, girandoles, lamps and chandeliers, the collection of Russian portraits, drawings and miniatures of the 18th -19th centuries, West-European porcelain items.
The Duke Sheremetev died in 1801; after his death the estate of Ostankino was almost forgotten by the owners. From 1938 the museum was called the Palace Museum of Serfs' Arts. In 1992 it was renamed into the Moscow Museum-Estate of Ostankino.
The oldest surviving monument in Ostankino is Life-Giving Trinity Church of the end of the 17th century with a nine-tier carved iconostasis built in the time of the Princes Cherkassky. The five-dome temple was built of red bricks. The building's facades are decorated with multicolored tiles depicting flowers, fantasy birds and animals, white-stone carving, and figured brickwork.