Tsaritsino Estate, Moscow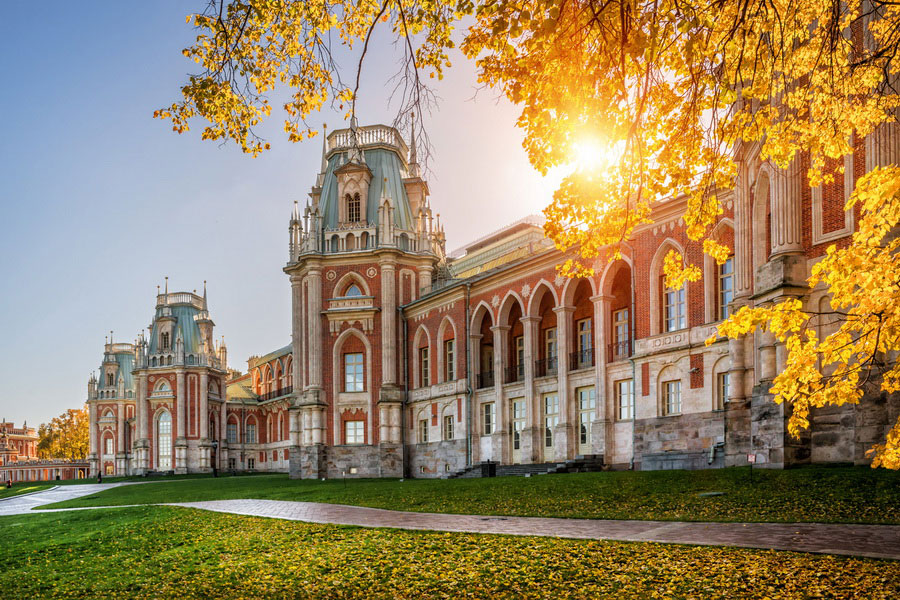 Tsaritsino is Moscow's largest museum-reserve and a magnificent monument of history and culture of the 18th – 19th centuries. This stunning architectural complex is nothing like a country estate of Catherine the Great, where she never had a chance to relax and have fun. The fate of Tsaritsino is rather strange. Until now, the historians have been trying to solve the mystery...
The Empress bought this place called "Black Mud" from the descendants of the Moldavian Prince Cantemir, who had been granted the village by Peter I himself. The place was famous with its holy water springs keys and curative mud. The other owners of the Black Mud had been the boyars Streshnevs and their and relatives Golitsyns. The construction of the estate, known as Tsaritsino, was headed by the personal architect of Catherine, Vasily Bazhenov.
The territory was supposed to have a magnificent palace, a park with pavilions, artificial ruins and grottoes. The architect started the work zealously. From 1776 to 1785 two palaces, connected by a gallery with an openwork arch gate, the Bread House, the Opera House, the First and Second Cavalry Corps, figured bridges across the ravines were built. At the same time the landscaped park was planted. The buildings constructed in the Gothic style, featured striking combination of red brick with white stone and decorative details. The small area was filled with palaces, pavilions, pergolas, rotundas, bridges, and figured arch. In the central square there were two palaces - for Catherine and her son Pavel (Great and Small) reflecting each other in layout. Before them was built the largest building - the palace-temple.
The palaces were supposed to be connected with a greenhouse. But the architect's plans went awry. The arrival of the Empress in the summer of 1785 became fatal. Having hardly inspected all the buildings, she left without saying goodbye to the architect. Soon she ordered the demolition of the three central palaces and fired Bazhenov. The work was continued by his pupil, Matvey Kazakov. The master worked hard for ten years but Catherine never appreciated his work, she died in 1796. By 1797, a year after the death of the Empress, only two-story walls and the roof of the Great Palace were built. In the 19th century Tsaritsino became a place of mass folk festivals.
After World War II the park, the pavilions of the 19th century were restored. In 1984 the State Museum of arts and crafts of the USSR was opened in Tsaritsino. In 1993 the State historical and architectural, art and landscape museum-reserve Tsaritsino was created there. This is the largest of all the reserve museums in Moscow.