Engagement Traditions in Russia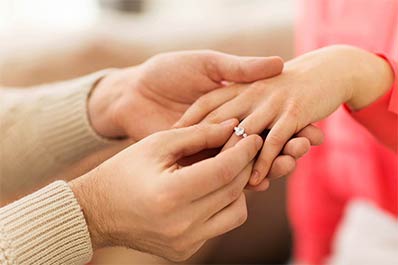 Engagement is the announcement of mutual consent of the couple in love to get married. After it, they had the right to be called a bride and a groom.
In Russia engagement or betrothal were considered the most important ceremony before wedding. Parents sat against one another and kept silent for a few minutes. Then the agreement was written with the indication of the wedding date.
If the bride was of noble descent, the ball and feast were organized where the father of the bride presented the groom and the bride to the guests and announced their engagement.
Then everyone present in turn approached them with official congratulations. On that day the bridegroom gave the bride a ring with a precious stone.
In more modest urban families the engagement ceremony was not as lush. Usually it was the day of the official introduction of parents of the groom and the bride followed by the blessing. Often, the groom and bride were blessed by a priest.
In villages in the engagement was necessarily attended by close relatives. The parents blessed the bride and groom with an icon, and then came the exchange of traditional bread and salt. After that, the father of the groom and the bride's father took turns bowing 7 times each, exchanged handshakes and publicly promised to complete the deal started. Immediately after the parental blessing the bride appeared on the porch and having bowed seven times to all sides, announced to all people who gathered in front of her home that she was engaged.
Today, this ceremony is normally skipped or replaced with a celebration dinner or party. Traditionally, the betrothal is attended by invited relatives and friends who become witnesses of the groom's giving engagement ring to his bride. This ring taken by the bride is to confirm her intention to marry the groom.