Adventure Tourism in Tajikistan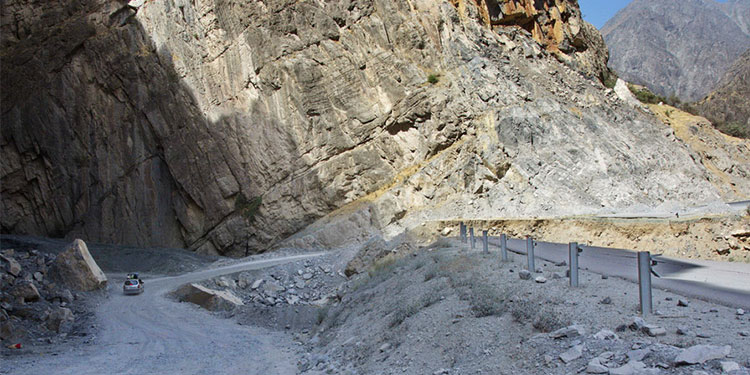 Pamir Highway
With adventure tourism in Tajikistan you can hike along the Roof of the World, follow in the footsteps of Marco Polo and Alexander the Great, zip through the "Tunnel of Death", visit the highest point in the former USSR, skirt the Afghanistan border and travel the famed Pamir Highway through some of the world's most remote mountain passes.
The M41 Highway, otherwise known as the Pamir Highway, connects the city of Khorog in Tajikistan with Osh in Kyrgyzstan. It covers a total of 1,325 kilometers (825 miles) as it travels along the borders with Afghanistan and China before reaching Ak-Baytal Pass, the high point in the former USSR at 4,655 meters (15,272 feet) above sea level. Originally a Silk Road route traversed by Marco Polo and bands of shrewd merchants, it now provides the perfect setting for intoxicating adventure on Tajikistan trekking tours.
Pamir Mountains tours open up a whole new world or resplendent, daring peaks. The Pamir Mountains are known for their beautiful valleys and colorful mountain villages, where timeless traditions remain largely untouched by outside influence. Daytime mountain vistas and bright starry skies at night make for unforgettable memories and photos. Reach the stunning Wakhan Corridor, where the 19th-century geopolitical Great Game officially came to an end. Bundle up for a visit to Bulunkul, the coldest town in Central Asia, or warm up with a trek along secluded mountain ridges. Experience the nuances of Tajik, Pamiri and Kyrgyz culture all along the highway as you overnight in yurts and family homestays.
Adventurous Tajikistan tours are not limited exclusively to Pamir Highway tours. A daring ride from Dushanbe through the perilous Anzob Tunnel will take you north to the Fann Mountains for hiking and camping. The famed Seven Lakes may be explored independently or in conjunction with a Tajikistan tour package. Discover Iskanderkul, a gorgeous alpine lake named after Alexander the Great, who purportedly rested here with his army in the 4th century BC. Experienced trekkers can set out on their own to discover hidden lakes and higher peaks, with Artuch Alp Base Camp at the foot of the Fann Mountains a great start and end point.
The laid-back, unpredictable nature of adventure tourism in Tajikistan is sure to give an added spark of excitement to all of your travels in this gorgeous mountain land.