Historical-Cultural Tourism in Tajikistan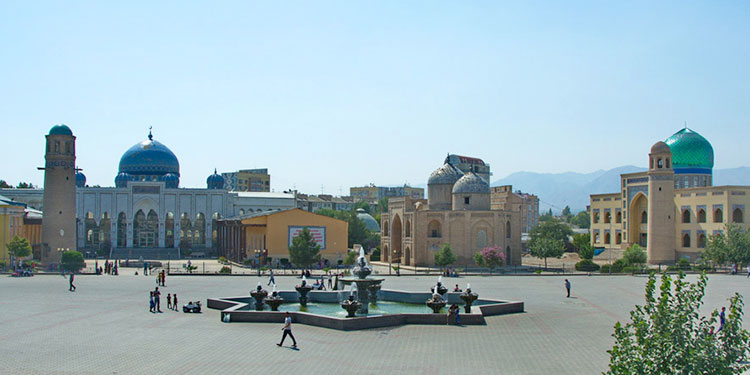 Jami mosque and Mausoleum of Sheikh Muslihiddin in Khujand
Historical-cultural tourism in Tajikistan sends you traveling through time to mysterious ruins and breaking cultural bounds to discover vibrant traditions preserved in a far-off land.
From ancient Sogdiana and Bactria to the armies of Alexander the Great and the Russian Empire, civilizations have warred for the territory of present-day Tajikistan for millennia. From medieval fortresses to Buddhist temples, remote mosques and crumbling madrasahs, Tajikistan has myriads of stories to tell to those who will listen.
Tajikistan tourism packages focused on historical-cultural tours will typically include travels to one or more of the following cities:
Dushanbe, the Tajikistan capital dotted with noteworthy sites not duplicated elsewhere in the country. See the gigantic Buddha statue at the National Museum of Antiquities, pay homage to local heroes at Rudaki Park and the statue of Ismail Somoni and tune in to Pamiri culture at the Gurminj Musical Instruments Museum. Shop for sweets and souvenirs at one of several bazaars and choose from a smorgasbord of tasty national dishes throughout the day.
Hissar Historical-Cultural Reserve, located in Dushanbe's outskirts, includes not only Hissar Fortress but also Sangin Mosque, Makhdumi A'zam Mausoleum, a caravanserai and a madrasah.
Khujand is a must-see in Tajikistan. Along with Bukhara and Samarkand, the city was once a center of science and culture in Central Asia, and many monuments from this golden age remain to this day. Visit Sheikh Muslikhiddin Mausoleum, Masjidi Jami Mosque, Timur Malik Fortress and the 2500-year-old Khujand Citadel. The Historic-Ethnographic and Archaeological Museums provide additional insights, while Russian-style Arbob Palace and Payshanba Bazaar, Tajikistan's largest outdoor market, provide colorful intermissions to your day.
Penjikent, otherwise known as the Pompeii of Central Asia, is another spectacular sight. Ancient Penjikent and the 4th millennium BC ruins of Sarazm, a UNESCO World Heritage Site, never cease to amaze travelers with their labyrinths of homes, palaces, temples, cemeteries and city streets. Modern Penjikent is known as the birthplace of renowned Persian poet Rudaki. Visit the Rudaki Museum, shop at a bustling bazaar and see the historical monuments which bring ancient life from the realm of imagination into reality.
Istaravshan attracts tourists with the ancient settlement of Mug Tepa, likely founded by King Cyrus, Khazrati-Shah Mausoleum and Namazgah Mosque. Small and authentic, Istaravshan gives travelers a great taste of life in the northern reaches of Tajikistan.
The Pamir Highway is guarded near its entrance by Hulbuk Fortress, seat of a grand empire in the Middle Ages. Along the mountain highway itself you will encounter Kah-Kaha Fortress, one of the Silk Road's oldest outposts, petroglyphs near the town of Langar and rich minority cultures in the mountain towns of Murghab, Khorog, Bulunkul and others.
Your travels will be enhanced as you forge friendships with the friendly Tajikistan population. Bridge ancient history with 21s-century life through family homestays and participation in local holidays or regional festivals. Don't forget to bring a piece of Tajikistan home with you through colorful handmade textiles, pottery or traditional clothing items.
Historical-cultural tourism in Tajikistan, which can be easily combined with tourism in Uzbekistan or Kyrgyzstan, will take your vacation to the next level in a picturesque and welcoming land.