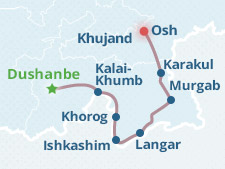 Group size: 2 - 14 persons
Please note that itinerary and price are subject to change due to airline and train schedule changes, currency fluctuations and other unforeseeable events.
Pamir Highway Group Tour is a fascinating trip to Tajikistan where you will cross many high-mountain passes, winding serpentine roads, see monuments of the Islamic, Buddhist and unique Pamir cultures. Moreover, you will have around like-minded adventurers to share your impressions and experiences.
Pamir Highway Group Tour will start in the capital of Tajikistan where you will see the main sights of Dushanbe and its surroundings. After this informative entry, you will have a week of snow-capped mountains, as the height will be closer, you will have acclimatization to the air of the Pamir Mountains. You will see beautiful villages, wild flows of the River Pyandj, cross one of the highest passes – Ak- Baytal (4655 m) and learn a lot about the history of the Pamir tract once connected to the Great Silk Road and the Great Game.
Pamir Highway Group Tour is not merely a walking trip. It is a choice of real adventurers. Check out the detailed tour program, select the appropriate date, and start preparing for a memorable expedition!
Traveler tips:
1. Access to the Internet will be in Dushanbe, Kalai-Khumb and Khorog. In Ishkashim, Langar and Murghab, there is no internet access.
2. Traveling to high altitudes can cause an altitude-related illness, such as headache, dizziness, weakness, cogwheel breathing, sleep disturbance, loss of appetite, apathy and others. The tour program has gradual ascend to minimize manifest of high altitude-related symptoms. We recommend to monitor how you feel and drink water frequently (2.5 – 3 l water a day).
3. We also recommend packing different entertainment items with you to Pamir Highway tour: music, books, board games, etc. At times, you will have long hour drives; since after Khorog, there will be no access to the Internet and TV and evenings in the guesthouses may seem boring.
All transfers;
Accommodation based on double/twin room sharing, breakfasts included;
Full-board from Day 2;
Service of an English-speaking guide;
Entrance fees to sights as per itinerary;
Visa support for Tajikistan tourist visa;
Mineral water.
Hotel charges for additional services;
Lunch/Dinner on Day 1 and Dinner on Day 8;
Accommodation in Osh;
Consular fees for Tajikistan and Kyrgyzstan tourist visas;
GBAO permit;
Personal travel insurance.
Accommodation:
Dushanbe - 2 nights
Hilton
Kalai-Khumb - 1 night
Karon Palace
Khorog - 1 night
Dekhli Darbor, Lal
Ishkashim - 1 night
Guesthouse
Langar - 1 night
Homestay
Murgab - 1 night
Homestay