Turkmen Clothing and Jewelry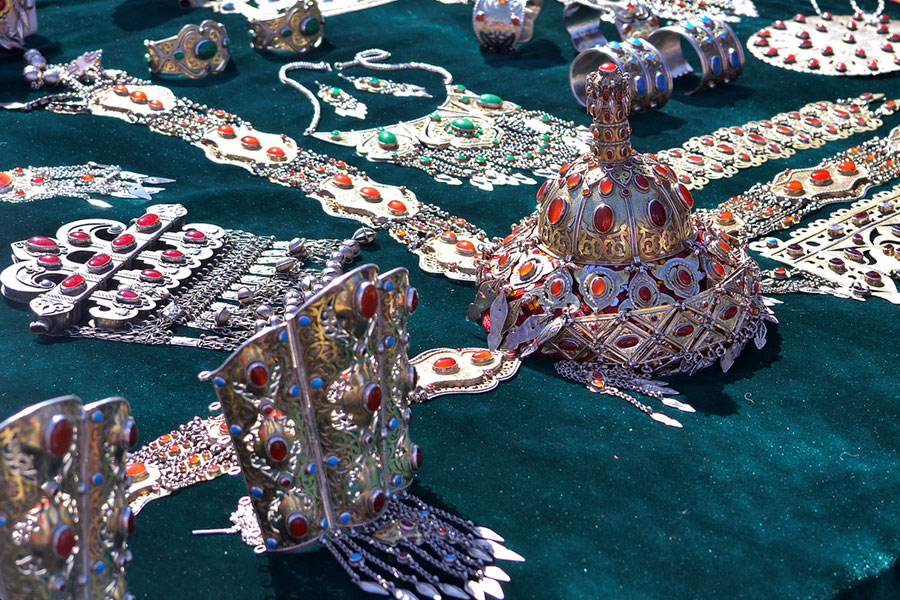 Although Turkmen clothing and jewelry is colorful and elegant, it is far more than a fashion statement. Each piece was designed to reflect a person's social status and region of origin, as well as to provide protection from evil and from Turkmenistan's unforgiving climate. The Turkmen people stand out among their Central Asian neighbors for their devotion to national clothing, and even today many men and the majority of women in the country can be seen in traditional costume.
The sewing and embroidery of clothes in Turkmenistan has traditionally been the realm of local women. From a young age, girls began to learn the delicate art of embroidery for which Turkmen clothing is best known, for it takes many years to learn how to select the right fabrics and create each unique piece with skill.
Men's Clothing
Turkmen men's costumes consist of simple black trousers, a white shirt with embroidery on the collar, an overcoat and a wide, red belt made of fine silk called a ketene. A sheep wool cap, or telpek, is Turkmenistan's traditional hat and the most distinguishing feature of Turkmen men's attire. The telpek hat can be white, brown or black, with each color indicating the status of its owner. Dressing gowns (dons) and skullcaps (khatya) with finely embroidered patterns are also commonly worn by men.
It is customary for Turkmen men to wear either shoes with a curved toe or sandals worn over woolen stockings. Noble and wealthy Turkmen wore high-heeled boots made of thin leather, while soft boots called kovush, over which leather galoshes were worn, were much more common.
Women's Clothing
Women's clothing in Turkmenistan has managed to retain a distinctive style through the centuries. The Turkmenistan national costume has once again become fashionable, and nowadays even the streets of capital city Ashgabat are filled with women in bright and colorful traditional dresses.
Ruby, maroon or crimson homespun silk prevails in female folk costumes, for since ancient times these shades have symbolized the power of nature to the Turkmen people. The color red was also believed to hold magical properties which could impart health, assistance in childbirth and protection from the evil eye to the wearer.
The Turkmenistan dress code for women includes a dress or shirt with a straight cut, trousers, a robe and a headdress, the latter of which indicates the woman's marital status. The collar and sleeves of women's clothing are covered with embroidered patterns whose colors and style traditionally vary by region, and special techniques employed by the seamstresses ensure that each robe is unique. Women's and men's shirts can be distinguished from one another by the greater amount of embroidery in the former, as well as the shape and length of the collar. Older women typically wear shirts with less embroidery and darker colors.
Jewelry
Jewelry occupies a special place in Turkmenistan traditional dress, for it was first valued as an amulet which could protect a person from evil. Local jewelry is replete with stylized images of insects and animals which are regarded as a link between man and nature. As the Turkmen also believed in the magic power of stones, most local jewelry was made of silver with inserts of precious and semi-precious stones.
With time, Turkmen clothing and jewelry evolved into an indicator of the person's social status. Archaeological excavations indicate that jewelry in Turkmenistan was worn not only by women, but also by men, and even Turkmenistan's famous Akhal-Teke horses were decorated with trinkets made of silver and precious stones!
Jewelry created by local craftsmen is among the most striking manifestations of Turkmen culture. Bracelets, brooches, pendants, rings, earrings and the like have become such an integral part of the local female image that the Turkmenistan traditional costume for women is simply unimaginable without jewelry. Girls begin to wear jewelry when they are very young, beginning with bracelets and pearl beads or buttons sewn onto their clothes. As the girl ages, additional jewelry is added to her attire.
Modern jewelers have inherited well-honed techniques and methods for processing these precious metals, and today valuable handmade gold and silver jewelry from Turkmenistan can be seen in museums around the world.