UNESCO List of Intangible Cultural Heritage in Turkmenistan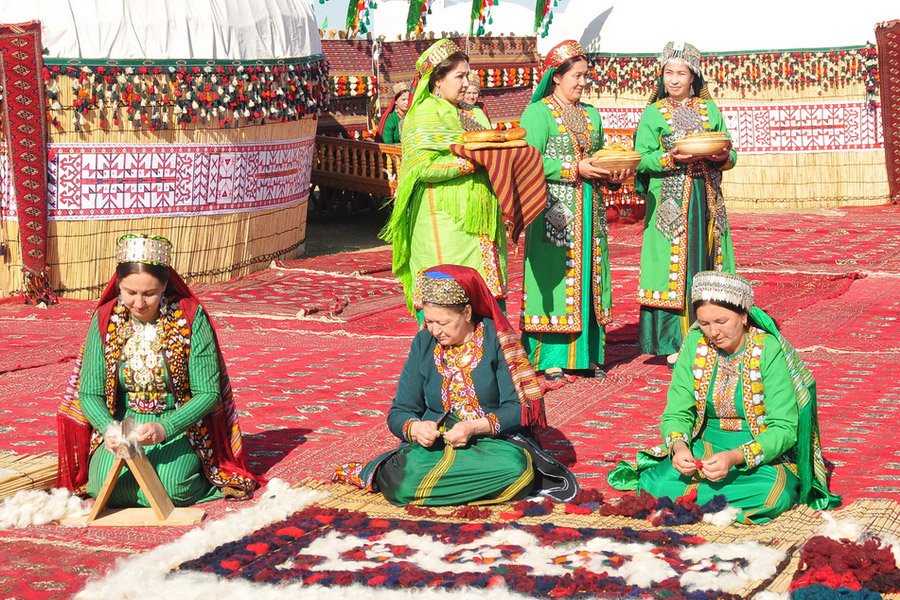 The global recognition of Turkmen intangible heritage underscores the immense significance of Turkmen culture. In addition to the tangible UNESCO World Heritage Sites of Ancient Merv, Kunya Urgench, and the Parthian Fortresses of Nisa, Turkmenistan also boasts vital elements of intangible heritage.
UNESCO Intangible Sites in Turkmenistan
Turkmenistan has eight entries on the UNESCO List of Intangible Cultural Heritage of Humanity:
Epic Art of Gyoroglu (added in 2015)
Nowruz (inscribed in 2001 and extended in 2016)
Kushtdepdi Rite of Song and Dance (inscribed in 2017)
The Traditional Art of Turkmen Carpet Making (added in 2019)
Dutar handicrafts and traditional musical performance art combined with singing (added in 2021)
The art of Turkmen needlework (added in 2022)
Traditional stories and anecdotes about Ependi (added in 2022)
Silk weaving and traditional silk production for weaving (added in 2022)
The Epic Art of Göroğlu
This epic chronicles the adventures of the legendary hero Göroğlu, weaving together storytelling in prose and verse, singing, and knowledge of national customs and traditions. The epic celebrates values such as bravery, honesty, love, loyalty, and justice. It also serves as an educational tool for children, showcasing cultural unity, character, and creativity. "Göroğlu" performances feature both male and female narrators who typically recite the epic while seated, accompanied by a stringed musical instrument like the dutar or gyjak.
Nowruz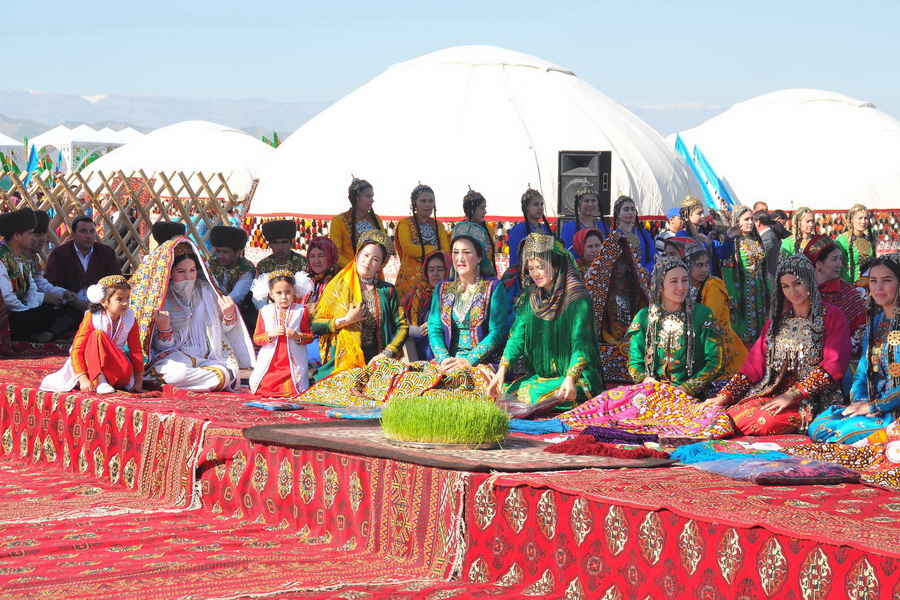 Nowruz, celebrated with particular reverence in Turkmenistan, literally means "new day." Every Turkmen family prepares delicacies, invites guests, and visits one another during this holiday. Among the dishes served are those made of wheat, with the main dish called semene. This custom stems from the fact that agricultural work in Turkmenistan typically begins after the holiday. Following the meal, Turkmen participate in traditional games, and at day's end, they partake in a fire-lighting ceremony, during which it is customary to jump over the flames. Nowruz is also recognized by UNESCO in all Central Asian countries and several others.
The Kushtdepdi Singing and Dance Rite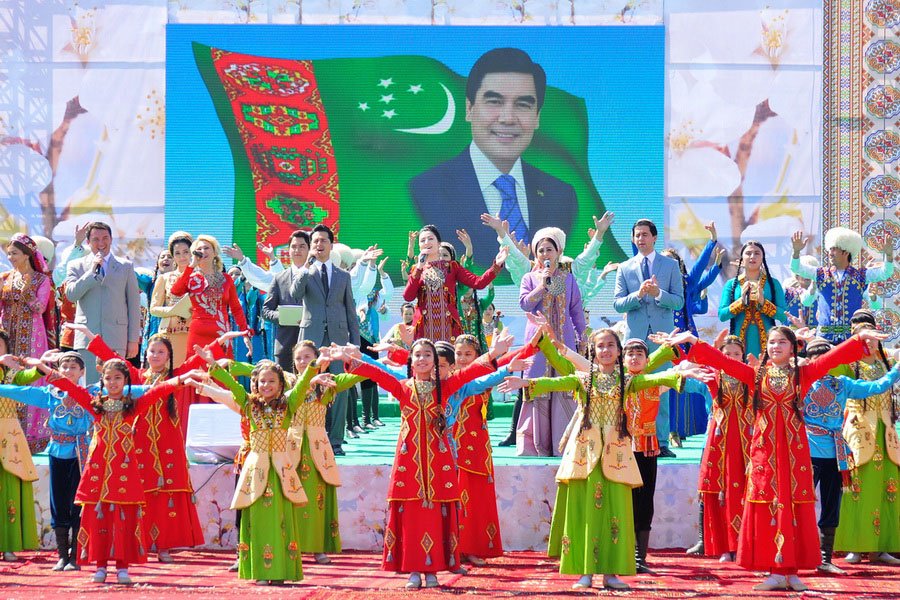 Kushtdepdi is an ancient vocal and poetic improvisation accompanied by dancing to the rhythm of the song. It is customary to make well-wishes during the ritual dance. Once considered a ritual dance associated with invoking God, Kushtdepdi is now performed at both family and national celebrations. The tradition serves as a bridge between generations, uniting them. There are three varieties of the ritual dance, with the most fascinating performed on Akhalteke horses.
The Traditional Art of Turkmen Carpet Making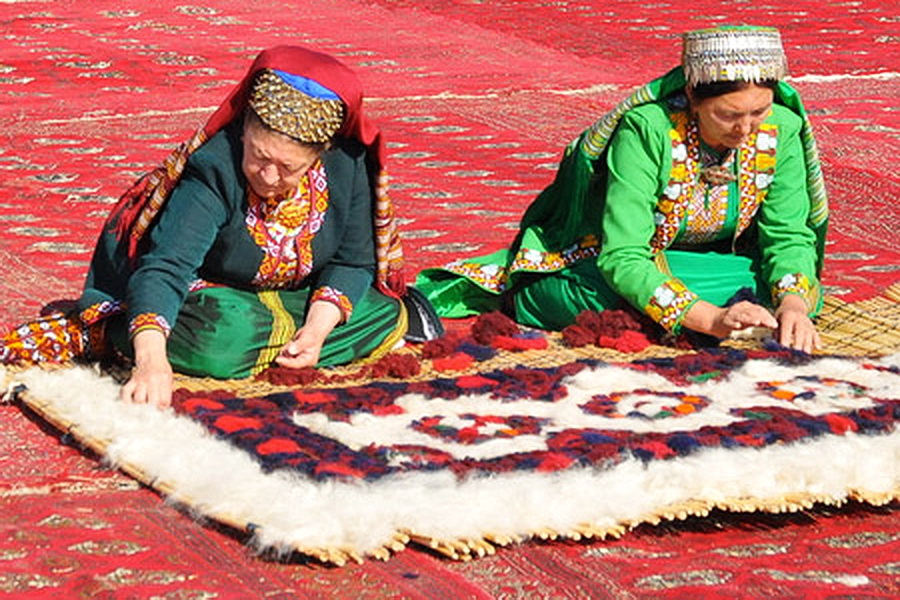 Woolen carpets crafted in Turkmenistan for centuries have been highly valued worldwide. Turkmen carpets can be easily distinguished from others by their unique patterns and ornaments, which originate from the five Turkmen tribes. The patterns typically feature sharp lines and symbolize not only flowers but also animals, birds, and plants. The oldest preserved Turkmen carpet dates back to the 5th century BC. Authentic carpets are still handmade today, and there is a centuries-old tradition in Turkmenistan of weaving carpets for special occasions such as weddings, the birth of a child, and even prayers.
Dutar Craftsmanship and Traditional Musical Performance Combined with Singing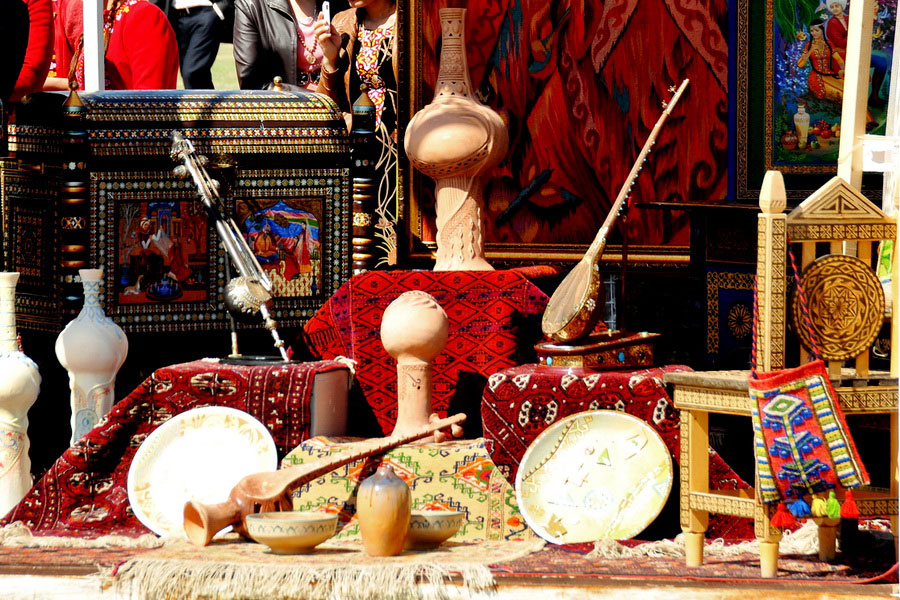 The dutar is a traditional Turkmen two-stringed instrument with a long neck and a pear-shaped body. The dutar plays a crucial role in the unique culture of the Turkmen people. This musical instrument is used for festive occasions, accompanied by singing or simply to perform musical pieces. Mulberry and apricot trees are utilized to create the dutar, with the former used for the body and soundboard, and the latter for the fingerboard. The wood is first carved, rounded, and polished before being placed in a kiln to remove excess moisture.
Turkmen Handicraft
This form of handicraft focuses on decorating national clothing. Artisans combine three silk threads into one and straighten them, causing the thread to shine. The embroidery then begins, featuring distinct characteristics depending on the region. Turkmen embroidery adorns wedding dresses as well as festive attire. The art of embroidery is passed down from generation to generation, from adult women to young girls. This intangible cultural asset is also recognized by UNESCO in Iran.
Traditional Stories and Anecdotes about Ependi
Ependi, better known as Khoja Nasreddin, is a folk character whose stories and anecdotes have been included in the UNESCO List of Intangible Heritage for Turkmenistan, Azerbaijan, Kazakhstan, Kyrgyzstan, Tajikistan, Uzbekistan, and Turkey. Ependi is somewhat cunning, but always honest and fair. By sharing stories about this character with their children, parents teach them the importance of always telling the truth.
Silk Weaving and Traditional Silk Production for Weaving
Turkmen silk products are highly valued by the international community. In Turkmenistan, silk is produced using ancient techniques, beginning with the cultivation of mulberry trees. The entire process, from silk production to the creation of yarns and silk fabrics, including dyeing, is carried out traditionally. Silk production in Afghanistan, Azerbaijan, Iran, Turkey, Tajikistan, and Uzbekistan is also recognized by UNESCO.
Turkmenistan boasts a rich cultural heritage. For instance, the breeding of the renowned Akhal-Teke horses and Turkmen Alabais is expected to be added to UNESCO's tentative list in the near future. At the same time, one should not overlook Turkmenistan's existing intangible heritage. If you plan to visit the country, be sure to explore the Göroğlu (Gyoroglu) epic, experience the Kushtdepdi ritual, observe Turkmen women weaving carpets and creating silk fabrics, and listen to the melodious sounds of the dutar.
Learn more about UNESCO World Heritage Sites in Turkmenistan.