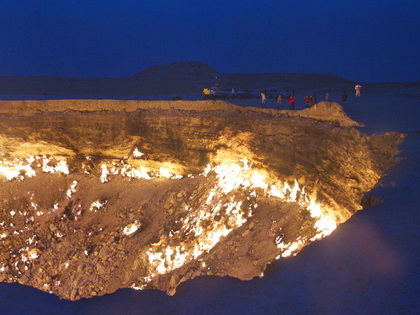 In 1971 in the Karakum desert geologists came across with a natural gas cavern during drilling, which swallowed their equipment; fearing that the hole would lead to the release of poisonous gases, it was decided to burn it off. They assumed that the fire would use all the fuel soon and would stop. 50 years have passed since then. People from the nearby village had to move out and the crater itself still burning day and night has turned into a local sightseeing spot visited by many tourists. Tour to Darvaza is not only an opportunity to witness this fantastic burning view in this boundless desert but also a unique experince to learn lifestyle of locals.
Tour itinerary:
Your guide and driver will meet you at the hotel lobby in Ashgabat and drive to Darvaza gas crater located in the middle of Karakum desert (280km, 4h). Arrive at the crater. Enjoy a delicious fire-cooked meal for early dinner near the burning gas crater. After dinner drive back to Ashgabat. Transfer to the hotel. End of the tour.
Duration: 7-8 hours
Price includes:
Transportation: 4WD vehicle;
Barbeque dinner;
English speaking escort guide.