Mausoleum of Sayf ad-Din Boharzi and Buyan Kuli Khan near Bukhara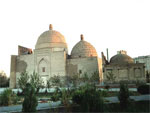 Sayf ad-Din al-Bokharzi (1190-1261) was the follower of Nadjmid ad-Din Kubro, who established the Sufi order of "Kubraviya".Bokharzi was the famous poet and theologian, receiving the title of "Sheikh of the world" in the end of his life.
After his death, Mausoleum-khanaka was erected over the grave of Bokharzi. It had served as a place for dervish rites.
His follower Buyan Kuli Khan was buried opposite the grave of Bokharzi. Later there was built a mausoleum over his grave too.
The mausoleum attracts with the magnificence of shapes, scale of construction, exceptional simplicity and lucidity of architectural idea. The mausoluem has the burial vault - gurhana and the room of prayer - ziyarathana. The interior of mausoleum is almost without decoration,but the luxirous gravestona and gurhana are decorated with gorgeous ornamentation. this gravestone with numerous patterns is the real masterpiece of medieval wooden carving