Fayzabad Khanqah, Bukhara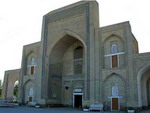 Fayzabad Khanqah was built in 1598-1599 by the famous Sufi Mavlono Poyand-Mukhammad Ahsi (Ahsiketi) Fayzobodi, who died two years later in 1601. The building had two functions. This mosque-khaqah was intended both for five-fold everyday prayers (namaz) and for friday prayers. It was also the place of Sufi rites and the temporary residence of dervishes.
Khanqah of Fayzabad is the wonderful creation of that time. Its hall as large, high and light as the palace. The refinement, elegance and nobility runs through the whole architecture of the khanqah. The central hall has two wings of through arched galleries with domes. Behind the mihrad (nishe, indicating the direction to Mekka) there is the three-storey building of khudjras (cells) for residence of dervishes. The dome of interior is decorated with the impressive fretwork of ganch in the style of "chaspak"