Helicopter transfers in Uzbekistan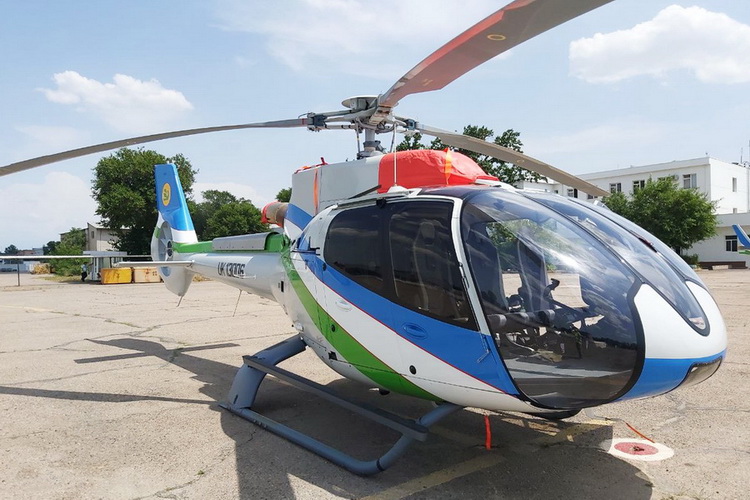 Advantour offers helicopter transfers in Uzbekistan: between cities, to unique hard-to-reach places, as well as sightseeing flights. Our company will provide you with a high-quality and reliable helicopter transfer in Uzbekistan, with additional transfers from the hotel to the airport and back.
You can travel around Uzbekistan by car, train and plane – the country has a fairly good network of roads and airports in every major city. But traveling by car takes a lot of time, and trains and planes run on schedule, and besides, it's not always possible to get tickets to popular destinations. Therefore, helicopter transfers in Uzbekistan can be an excellent solution. It will be much more expensive, but in return you will get better conditions: the choice of departure time*, high speed, comfort, and a magnificent view from the window.
* for safety reasons, all flights are operated during the daytime.
Helicopter Transfer Routes in Uzbekistan
Tashkent – Samarkand
Tashkent – Bukhara
Tashkent – Urgench
Tashkent – Nukus
Tashkent – Termez
Tashkent – Andijan
Tashkent – Jizzakh
Tashkent – Karshi
Tashkent – Navoi
Tashkent – Namangan
Tashkent – Fergana
Samarkand – Bukhara
Samarkand – Navoi
Bukhara – Urgench (Khiva)
Urgench – Nukus
Nukus – Muynak
Sightseeing tours and flights to mountainous areas
We also offer day tours and helicopter sightseeing tours in Uzbekistan. The most popular destinations can be viewed in detail.
Tashkent – Amirsay – Tashkent
Tashkent – Pulatkhan Plateau – Tashkent
Tashkent – Lake Urungach – Tashkent
Tashkent – Charvak – Tashkent
Tashkent – Lake Ihnachkul – Tashkent
Tashkent – Lake Arashan – Tashkent
Tashkent – Lake Shaverkul – Tashkent
Tashkent – Koksu River – Tashkent
Tashkent – Oygaing River – Tashkent
Tashkent – Maidantal – Tashkent
Tashkent – Charvak – Chimgan – Amirsay – Tashkent
Tashkent – Beldersay – Chimgan – Amirsay - Tashkent
Nukus – Muynak – Aral Sea – Muynak - Nukus
Nukus – Aral Sea – Nukus
Characteristics of Helicopters
Two models of Airbus H-125 and Airbus H-130, which are provided by Uzbekistan Airways, are used for helicopter transfers in Uzbekistan. These are almost identical models; their difference lies in capacity.
Airbus H-125 – 4 passengers
Airbus H-130 – 5 passengers
Maximum speed: 260 km/h
Flight range: 630 km
Flight ceiling: 3800 m
It is worth noting that there is no space for oversized luggage in helicopters, and you can only take a small backpack or bag with you.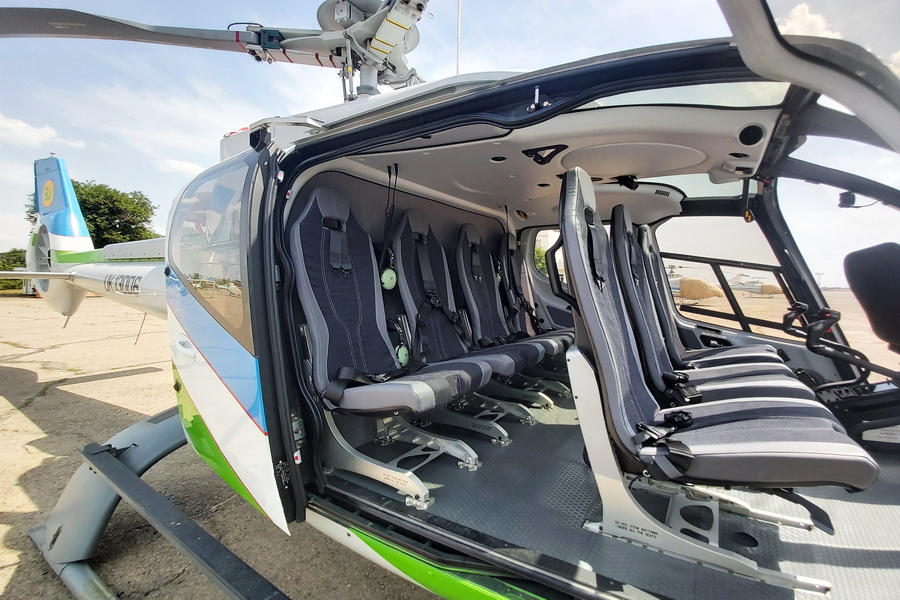 Features of Helicopter Transfer
Our helicopter transfers also include your car transfer from the hotel to the local airport:
Take your time and relax, as all transfers include free waiting time.
All inclusive: no additional taxes and fees.
Professional drivers and pilots: our drivers have a license and insurance, and the pilots have extensive experience and regularly undergo inspections.
Weather Conditions
In case of non-flying weather the day before the flight and the impossibility of transferring the transfer to another day, 100% of the cost of the service is refunded.
In the event of a sudden change in the weather during the flight, the helicopter pilot decides to urgently return or change the landing site. In this case, no compensation is provided. However, such force majeure is extremely unlikely, since air traffic controllers and pilots carefully monitor the weather forecast along the entire route in advance.
Conditions for Booking a Helicopter Transfer
Please call or book a transfer in Uzbekistan online at least two working days before the flight. You can pay for the transfer online (Visa, MasterCard), in cash or by bank transfer. 100% prepayment.
During the booking process, you must provide copies of the passports of all passengers.
We can arrange transfers to other destinations within Uzbekistan. To do this, you must specify in the request form the point of departure and the point of arrival, as well as the date and time. Our employee will contact you and inform you of the cost of the transfer.