Muhammad Rahim-khan Madrasah, Khiva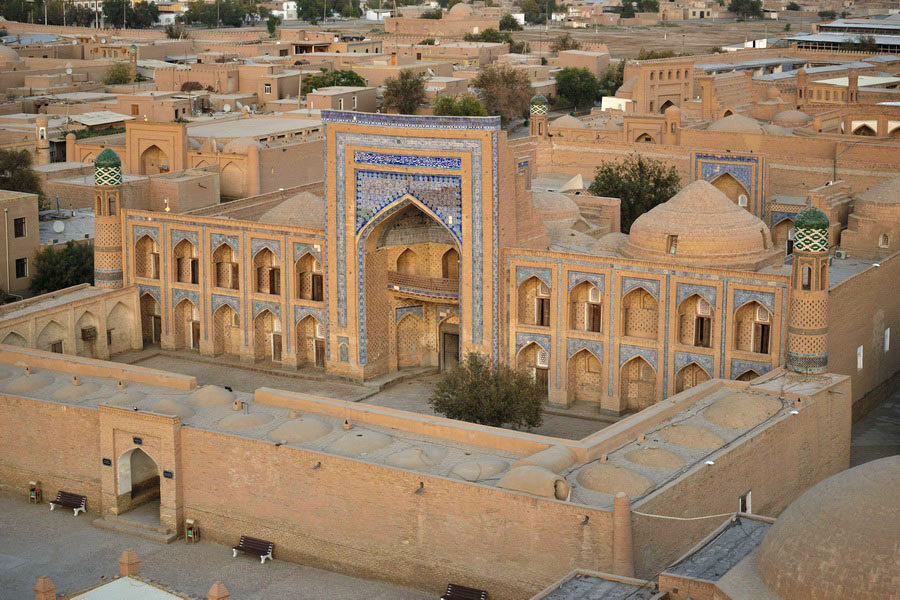 Muhammad Rahim-khan was one of the most educated representatives of Kungrat dynasty ever to rule in Khiva since 1770. During his rule, a number of reforms were carried out in improvement of cities, in policy, economy, but, that was the most important, in education. His reforms in education resulted in opening of the first 'new type' of schools in Khiva where not only religious but also secular subjects were taught. The construction of one of the largest madrasahs in the Central Asia in his own honour became the apotheoses of his rule. Not only the religion and the Koran but also secular subjects such as mathematics, astronomy, geography were taught at the Muhammad Rahim-khan Madrasah. Along with studying various sciences and theology, madrasah students composed poems, held debates.
The educational process at the Muhammad Rahim-khan Madrasah differed from traditional education at other Islamic universities. To a large extend, it was facilitated by Muhammad Rahim-khan himself. He was well-educated and enlightened monarch, he used to write poems under the pseudonym Feruz. Often, he personally participated in discussions with the madrasah students.
The construction of the Muhammad Rahim-khan Madrasah completed in 1876 and it became one of the largest in the territory of the Central Asia. The madrasah appeared as two-storeyed building with a high entrance portal. The Muhammad Rahim-khan Madrasah's yard had four aiwans with four small turrets at the corners. There were 76 hudjrs inside (internal living rooms).The madrasah also had darskhona – a teaching bulk, summer and winter mosques and an extensive library. Muhammad Rahim-khan madrasah encapsulated the spirit of enlightenment. It is a bright sample of culture of architecture of that epoch and takes a special niche in the history of Khoresm.