Sayid Allauddin Mausoleum, Khiva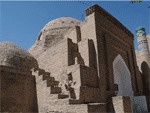 In the historical part of Khiva, Itchan-kala, there is one of the ancient buildings of the city – Mausoleum of Sayid-Allauddin, burial vault of famous Eastern saint and Sufi sheikh. For the centuries-old history of existence it was restored many times and the exact date of the construction is unknown, but according to historians the construction was finished in the second half of XIV century.
Sayid Allauddin, being the relative of the prophet Muhammad, preached Islam in Khiva in the end of XIII century. He died in 1303 and fifty years later the mausoleum was erected on the grave of the saint. Since that time this site became one of the pilgrimage centers for believers from all over the world. Amir Kulyal is considered the architect of the mausoleum.
Architecture of the mausoleum is not distinguished with rich ornamentation: brick walls and domes, without any face. The building is made in ascetic style without picturesque elements. Small square building (ziyarat-khona) was attached to the mausoleum in the XIX century. It caused the mausoleum entrance is located from the north. Probably initial building had some ornamentation (some elements were found in the course of excavations), but due to great number of reconstructions they were not preserved. Notwithstanding the plain look of the building, thousands of pilgrims from Uzbekistan and other countries visit it every year.